Watermelon Slush
Did you know that watermelon is my absolute favorite fruit? I'm pretty sure it is Zeke's favorite as well. The two of us can polish off a watermelon so quickly that it's almost embarrassing! A watermelon at peak ripeness and sweetness is a wonderful thing – especially when it is cold and fresh from the refrigerator! Unfortunately, I am not an expert at picking out great watermelons (any tips to share??), which means that more often that not, the watermelons I pick are just not that great. Most are sweet enough, but every once in awhile I get one that is just too mushy or mealy to eat. I've always just thrown those out, but not anymore! Now I make this watermelon slush. 🙂
This watermelon slush is delicious, and so simple to make. Just combine watermelon, a tiny bit of sugar, lime juice, and ice in a blender. Once it's all blended up, you're left with a slushy sweet drink that is ridiculously refreshing. We all love it, and watermelon slush is a now a staple on hot summer afternoons. And best of all, it only takes 5 minutes to make.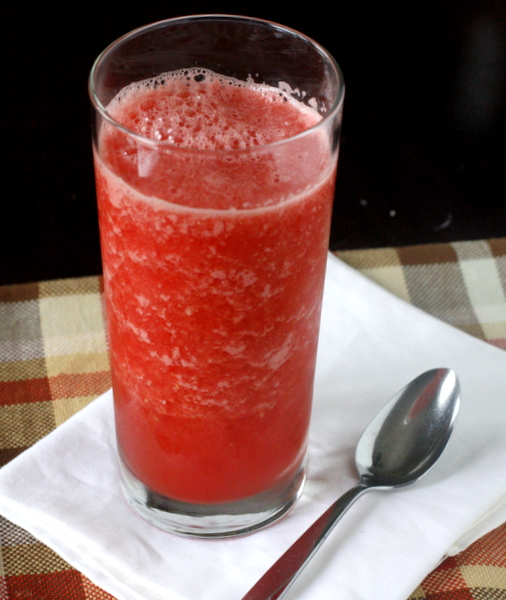 Watermelon Slush
Ingredients:
5 cups diced seedless watermelon
2 tablespoons sugar
Juice of 1 lime
1 cup ice
Directions:
Combine all ingredients in a blender and process until smooth.
Serve immediately.