Chipotle Chicken Chowder
When I first saw pictures of this soup, I knew I wanted to try it. It looked like something both Mike and I would really like. However, once I read that parts of the soup mixture had to be pureed in a blender, I almost decided against it. I tried that once with butternut squash soup and it created a mess, and in general I viewed it as more trouble than its worth. I'm definitely glad I gave it another shot for this recipe though.
You puree the cooked vegetables and broth together, which not only gives it a nice warm orange color and semi-thick texture, but it also has the effect of spreading the chipotle spiciness evenly throughout the whole soup. You then add cooked, shredded chicken and potatoes to that base to create a wonderful, spicy, chowder-like soup. Mike really liked this and rated it a 3.5. And we both agreed that it tasted even better the second day, although unfortunately there was not as much leftover as I was hoping. Following the recipe, the soup is pretty spicy, but I could still enjoy it even with my low tolerance for spicy foods. I'm sure you could make it even more spicy by added some extra chipotle peppers if you wanted to.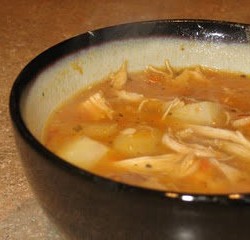 Chipotle Chicken Chowder
Ingredients:
1 chipotle chile canned in adobo sauce, minced, plus 1 tsp of the adobo sauce
1 tablespoon extra virgin olive oil
2 cups chopped onion
1 cup chopped carrot
1/2 cup chopped celery
1 teaspoon ground cumin
1 teaspoon herbs de Provence
6 garlic cloves, crushed
6 cups chicken broth
3 cups shredded cooked chicken
2 medium red potatoes (about 12 ounces), cut into 1/2-inch pieces
1/4 cup heavy cream
1/4 cup chopped fresh cilantro
1/2 teaspoon salt
8 lime wedges
Directions:
Heat oil in a large Dutch oven over medium heat. Add chopped chile, adobo sauce, onion, and next 6 ingredients (through garlic); cook 7 minutes or until onion is tender, stirring frequently. Stir in broth; bring to a boil. Simmer for 20 to 30 minutes or until vegetables are tender.
Remove pan from heat; let stand 5 minutes. Place one-third of broth mixture in a blender; process until smooth. Pour pureed broth mixture into a large bowl. Repeat procedure in two more batches with remaining broth mixture. Return pureed broth mixture to pan. Stir in potatoes and chicken; bring to a simmer over medium heat. Cook, uncovered, 20 minutes or until potatoes are tender. Stir in cream and cilantro; simmer 5 minutes. Serve with lime wedges.