If you're looking for a soft, chewy, fudgy, chocolatey, cookie – look no futher! This recipe comes from Mike's cousin and as soon as I tasted them I knew I needed to make them. I wasted no time in asking for the recipe and making them as birthday treats for a coworker. Everyone loved them and I overheard one woman walking out the kitchen with a cookie in her hand saying "These cookies are so good." Comments like that always make me smile

These truly are some of the fudgiest chocolate cookies I've ever tasted. Be careful not to overbake them, as that will make them a little cake-ier. I erred on the side of slightly underbaking them and they were perfect.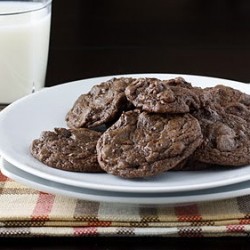 Double Chocolate Cookies
Ingredients:
1 cup unsalted butter
1 1/2 cups sugar
2 eggs
2 tsp. vanilla
2 cups flour
2/3 cup unsweetened cocoa powder
3/4 tsp. baking soda
1/4 tsp. salt
2 cups chocolate chips
Directions:
Beat butter, sugar, eggs and vanilla. Stir in flour, cocoa, soda and salt. Stir in chocolate chips. Drop by rounded teaspoonfuls onto ungreased cookie sheet. Bake at 350 for 8 to 10 minutes.