No-Bakes
I love these no-bake cookies, and I'd almost forgotten about them. But this week I was looking for a quick recipe to make to bring to work and the last thing I wanted to do was go to the store. I searched tasty kitchen and this recipe jumped out at me when I realized I already had all the ingredients to make them. And I'm so glad because now I remember how much I like them.
 The recipe is really quick and easy. You melt half the ingredients together on the stove, boil them for 1 1/2 minutes, mix in the rest of the ingredients, and drop them by the spoonful onto waxed paper. Then let them cool, or if you're like us, attempt to eat one while they're all hot and messy – so good! These only take about 10 minutes, create a minimal amount of mess, and taste great. I definitely recommend them 🙂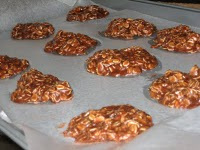 No-Bakes
Ingredients:
1/2 cups Margarine
1/4 cup Cocoa Powder
2 cups Sugar
½ cup Milk
3 cups Oats (Old Fashioned or Quick)
½ cups Creamy Peanut Butter
1 teaspoon Vanilla Extract
Directions:
In a large sauce pan, bring margarine, cocoa, sugar, and milk to a hard boil. Boil for a minute and a half, stirring constantly. Remove from heat and add oats, peanut butter, and vanilla. Mix well. Immediately drop onto waxed paper using a spoon, as it will begin to set within a few minutes. Let cool.