Oreo Balls
Day 3: These are amazing. There's really no other way to describe them. A soft, rich, fudgy center surrounded by a thin chocolate coating – this is one Christmas cookie tradition we can't do without. They're so simple to make, which is an added bonus. Crush a package of oreos in a food processor, mix with a softened block of cream cheese, roll into balls, and dip into melted chocolate. And that's it! You have then produced the most wonderfully rich, chocolatey cookie you'll ever taste. The ones dipped in white chocolate seem to disappear the quickest, although the ones made with mint oreos and dipped in green chocolate tend to be favorites as well. In case I haven't quite convinced you of how good these are, you should know that Mike rated the white chocolate oreo balls a 4.75, and the mint ones a 5!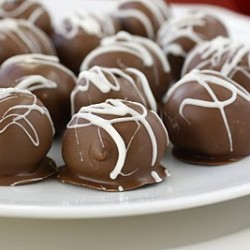 Oreo Balls
Ingredients:
1 package oreos
1 package (8 oz) cream cheese, softened
chocolate discs for melting
Directions:
Crush oreos in food processor. Combine crushed oreos and softened cream cheese in a large bowl. (Your hands work best for this). Roll into small balls. Melt chocolate discs in a double boiler. You could also melt the chocolate in the microwave or in the oven. Using a toothpick, dip the oreo balls into the chocolate, letting the excess chocolate drip off. Set the oreo balls on waxed paper to cool. Store in the refrigerator.
Some Notes:
1. To make mint oreo balls, use the mint creme oreos and green chocolate discs
2. Don't use double stuffed oreos because they tend to make the oreo balls too soft. If you do use double stuffed oreos (such as the mint creme ones), you can refrigerate the balls to make them easier to dip in the chocolate.
3. To make the chocolate drizzles to make them look nice, melt a contrasting color of chocolate. Dip your spoon in the melted chocolate, let most of it run off, and then kind of shake it over top of the oreo balls. This greatly improves their appearance.