Jennie's Best Chocolate Chip Cookies
If you've read my blog for any length of time, you know that I'm on a search for the perfect chocolate chip cookie. It means something different to everyone, but for me, it's thick, chewy, buttery, and full of chocolate. I actually really want a cookie just thinking about it. This cookie recipe is very very close to being exactly what I want. It makes nice thick, round cookies. Normally my cookies are lopsided or completely flat, but these are by far the prettiest chocolate chip cookies I've ever made. Definitely points in their favor 🙂
Even more important than how they look, they taste great! They have a great chewy texture with a traditional buttery cookie flavor. I love them (as I do most cookies), but they're still in a pretty close tie with Alice's chocolate chip cookies. Better texture, not quite as good in taste. Almost, but not quite. I haven't had a chance to play around with the recipe yet (as it turns out, I don't actually need dozens of chocolate chip cookies hanging out around my house), but I'll keep you updated in the great chocolate chip cookie search. In the meantime, try these cookies and let me know what you think!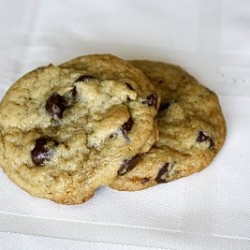 Jennie's Best Chocolate Chip Cookies
Ingredients:
4 cups flour
1 teaspoon baking soda
1 teaspoon salt
2 sticks butter, softened
2 cups sugar
2 tablespoons molasses
3 large eggs, at room temperature
1 1/2 teaspoons pure vanilla extract
12 ounces bittersweet chocolate discs (*I used chocolate chips)
Directions:
In a large bowl whisk together the flour, baking soda and salt. Beat butter, sugar and molasses until light and fluffy. Add the eggs and vanilla and beat until well mixed. Add the flour mixture and mix just until combined. Stir in the chocolate discs. Cover with plastic wrap and refrigerate overnight. The dough can be stored for up to two days.
To bake, preheat oven to 350. Line baking sheets with parchment paper. Gently form dough into 1 1/2 to 2-inch balls and place 2 to 3 inches apart on prepared baking sheet. Bake for 12-15 minutes on middle rack. Remove from oven and let cool on pan for 2 more minutes. Transfer cookies to a rack to cool completely.
*Adjust the baking time according to your oven and cookie size. I'd start checking early, and take the cookies out when they are just slightly underdone. They'll finish cooking on the pan as they sit.