Alice's Chocolate Chip Cookies
I'm on a search for the perfect chocolate chip cookie recipe. I found this recipe on a blog post titled "The Best EVER chocolate chip cookie recipe." Sounds promising, right? Unfortunately, it's not exactly what I'm looking for. However, this really is a great cookie recipe. The best I've ever made. It's chewy, buttery, rich, and has just enough salt to be slightly addicting. I found myself taking a bite, thinking, this is a good cookie. Then a second later, thinking, wow this is a great cookie. The only thing keeping it from being perfect is the texture. It's a little on the thin and crispy side. The taste is right-on, however, and if thinner cookies are your thing – this just might be for you. I, however, am still searching for its thicker, chewier counterpart. If anybody has any suggestions or recipes to try, leave a comment and let me know.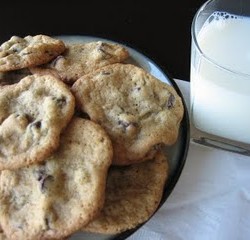 Alice's Chocolate Chip Cookies
Ingredients:
1 cup (2 sticks) salted butter, softened
1/2 cup sugar
1 1/2 cup brown sugar
2 eggs
2 tsp. vanilla extract
3 cups (12 oz) all-purpose flour *If at all possible, please weigh the flour
1 tsp. smallish-medium coarse sea salt *please do not use table salt, the sea salt gives the cookies a nice flavor and hints of texture.
1 tsp. baking soda
1 1/2 tsp. baking powder
2 cups/16 oz of semi-sweet chocolate chips
Directions:
Preheat oven to 360 degrees. Cream butter, sugar, and brown sugar until it is nice and fluffy (approx. 5 minutes on medium speed on a K-5). Add both eggs and vanilla and beat for an additional 2 minutes. Add baking soda, baking powder, salt, and flour until cookie batter is fully incorporated. Finally add chocolate chips until well distributed. The cookie batter should be somewhat thick. Drop about 2 tablespoons of dough or use a medium cookie scoop and plop the batter onto a baking sheet lined with parchment paper. Bake for 12-14 minutes until the edges are nice and golden brown. Remove from heat and allow the cookies to stay on the cookie sheet for an additional 2 minutes. Pick up the parchment paper with the cookies still on top and transfer to a cool non-porous surface. Allow the cookies to cool on the paper for at least 3 minutes before serving.