Pumpkin Pecan Pie
I know what you're probably thinking. Pumpkin pie? Didn't she just tell us all how much she doesn't like pumpkin pie? Besides, isn't pumpkin week over? And you're right! You're absolutely right. And yet, here I am, sharing a recipe for pumpkin pecan pie with you. Some things can't be explained.
Actually, this has a very simple explanation.  I volunteered to participate in a holiday baking recipe exchange with some other bloggers. I was assigned a partner (hi Wendy!) and we exchanged recipes, planning to write about them on our blogs. Literally minutes after I published my post declaring my dislike of pumpkin pie to the world, I received the email telling me my recipe: Pumpkin Pecan Pie. I laughed. I announced on twitter that I had to make a pumpkin pie and I don't even like pumpkin pie. I made the pie anyway, and then I gave it to my dad. Everyone was happy.
I did taste the pie, but since it's been years since I even tasted pumpkin pie, I can't say too much about it. I thought the pecans were a great addition, especially for people like me who have a problem with the texture of pumpkin pie in general.  If I made it again, I would add in some sort of spices – like cinnamon, or pumpkin pie spice. My dad didn't say much about it, other than it was good. But he went back for another piece a few hours later, so I think that's a pretty good sign.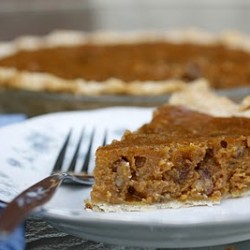 Pumpkin Pecan Pie
Ingredients:
Pie:
1 cup pumpkin (cooked, pureed)
3/4 cup light corn syrup
1 cup pecans, chopped
3 eggs
1/3 cup brown sugar
1/4 cup butter (softened)
1 tsp vanilla
1/2 tsp salt
1 9-inch unbaked pie shell
Reddi-Wip
Pie Crust
1 cup all purpose flour
1/2 tsp salt
1/3 cup plus 1 Tbsp shortening (or 1/3 cup lard)
2-3 Tbsp ice cold water
Directions:
Pie:
Preheat oven to 350. Place all filling ingredients together in a bowl. Beat with electric mixer until smooth. Pour into the pie shell and bake for 45-55 minutes, or until set. Serve with Reddi-Wip.
Pie Crust:
Measure flour and salt into bowl. Cut in shortening thoroughly. Sprinkle in water, 1 Tbsp at a time, mixing until all flour is moistened and dough almost cleans side of bowl (1 to 2 tsps of water can be added if needed.)
Gather dough into ball; shape into flattened round on lightly floured surface. Roll the dough 2 inches larger than the inverted pie pan. Fold pastry into quarters; unfold and ease into pan. Trim overhanging edge of pastry 1 inch from rim of pan and flute the edges.
If you like what you see, you may want to sign up to get free email updates or subscribe via rss. 🙂
I was compensated for participating in the Holiday Baking recipe exchange. All thoughts and opinions are my own.