Pumpkin Chiffon Pie
In the spirit of pumpkin week, I'm using this week's WFMW post to share a recipe that made me change my pumpkin pie hating ways. This recipe works for me!
Did you know there are actually many people who don't like pumpkin pie? I am one of those people, and so is Mike. Actually, up until a year or two ago, Mike was convinced he didn't like anything pumpkin, all because of his aversion to pumpkin pie. (He was wrong by the way, since he likes pumpkin scones, pumpkin bars, pumpkin bread, etc. And yet his first reaction still tends to be "I don't like pumpkin.") But that's a story for another time – back to pumpkin pie. For me at least, it's a texture thing. The flavor is great, but the texture just gets to me. Every year I want to like it because it seems so traditional, but I just don't enjoy eating it. And I don't think I ever will. So for all you pumpkin pie haters out there, let me introduce you to this beautiful pumpkin chiffon pie.
This simple little pie with the falling apart crust (sorry about that – crusts aren't my specialty) may look like nothing special. But hidden in its humble apperance is not only the traditional spicy sweetness you would expect from a pumpkin pie, but also a creamy, smooth texture that is just perfect. The pie itself is quick and easy to make, and the wonderful texture comes from folding in beaten egg whites and whipped cream. Because of that, this pie tastes wonderfully light, which is perfect after a big meal. I absolutely love this pie and I'm hoping it will be a staple at our Thanksgiving dinner from now on.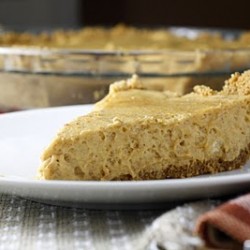 Pumpkin Chiffon Pie
Ingredients:
Filling:
1 envelope unflavored gelatin
1/2 cup sugar
1/2 teaspoon salt
1/2 teaspoon cinnamon
1/2 teaspoon ginger
1/4 teaspoon allspice
1/4 teaspoon nutmeg
3/4 cup milk
2 eggs, separated
1 cup canned pumpkin
1/4 cup sugar
1/2 cup whipping cream, whipped
1 9 inch graham cracker crust
Crust:
1 1/2 cups graham cracker crumbs
3 Tbsp sugar
1/3 cup melted butter
Directions:
For the filling: Combine first seven ingredients in saucepan. Stir in milk, egg yolks (save the egg whites in a bowl for later), and pumpkin. Cook and stir over medium heat until mixture boils and gelatin dissolves. Remove from heat and chill until partially set.
Beat egg whites until stiff peaks from. Gradually add sugar and beat to stiff peaks. Fold gently into pumpkin mixture along with the whipped cream. Pile into crust. Chill for at least two hours, or until ready to serve.
For the crust: Heat oven to 350. Mix crumbs, sugar and butter together. Press mixture firmly and evenly against the bottom and sides of a pie pan. Bake for 10 minutes. Remove from oven and let cool.
If you like what you see, you may want to sign up to get free email updates or subscribe via rss. 🙂
p.s. I just joined facebook! Come on over to my page and "like" me 🙂