Buttermilk Waffles
I've always loved waffles. Every Sunday growing up, our after-church lunch was a weekly rotation of pancakes, waffles or French toast. At least it was supposed to be a rotation. My mom always claimed that French toast and pancakes were easier to make than waffles, so even though I lobbied for waffles every single week, we just didn't have them as often as I liked. But now that I'm out on my own, cooking for myself (and Mike), I can have them as often as I want.

We love having breakfast for dinner a few times a month, and this is one of our favorites. It's not the healthiest option, but I figure if we pair it with a random vegetable on the side it all works out.  If you're not into that sort of thing, these waffles would make a spectacular weekend breakfast. They're perfectly crispy and come from the tried and true recipe my mom made for all those years. While French toast might be a little simpler to throw together, these waffles are not complicated at all and any extra work is totally worth it.  Plus, now that you know you can freeze buttermilk, you have no excuse not to make these!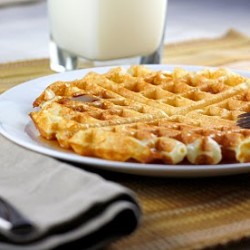 Buttermilk Waffles
Ingredients:
2 eggs
2 cups buttermilk
2 cups all purpose flour
2 tsp baking powder
1 tsp baking soda
1/2 tsp salt
1/4 cup plus 2 Tbsp shortening
Directions:
Heat waffle iron. Beat eggs; beat in remaining ingredients until smooth. Pour batter from cup or pitcher onto center of hot waffle iron. Bake until the waffle maker indicates it the waffle is cooked through. Remove waffle carefully. Serve with butter and syrup.
from the 1972 Betty Crocker Cookbook