Peanut Butter Pretzel Bites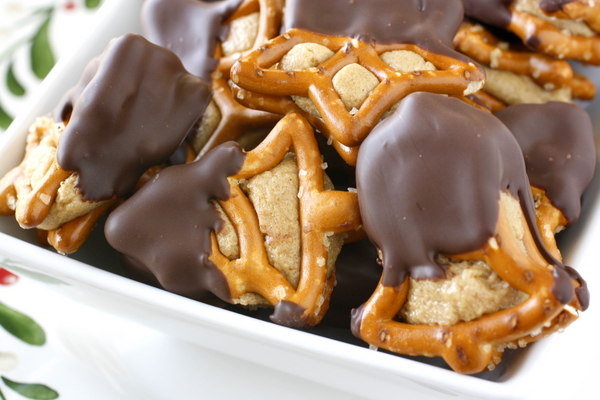 These peanut butter pretzel bites are like a cross between a peanut butter ball and a chocolate covered pretzel. With a combination like that, how can you go wrong?
I enjoyed making these treats not only because they tasted great, but also because they were incredibly simple and very cute. I used Christmas shaped pretzels, but you could use any shape you wanted.
They are quick to prepare and addicting once you start eating them! Mike's not a big fan of peanut butter desserts (crazy, right??) so I was unsure of how these would rank in his book. I'm pretty sure they were his least favorite of the treats I made this year and I almost considered leaving them off the blog.
Then I took the rest of them to a church get together and the overwhelmingly positive reaction convinced me that these treats needed to be shared on the blog.

Everyone (other than my crazy husband) LOVED these! So enjoy! I'm positive these peanut butter pretzel bites would make a fun and tasty treat this Christmas.

*Note: you can find the holiday shaped pretzels on Amazon!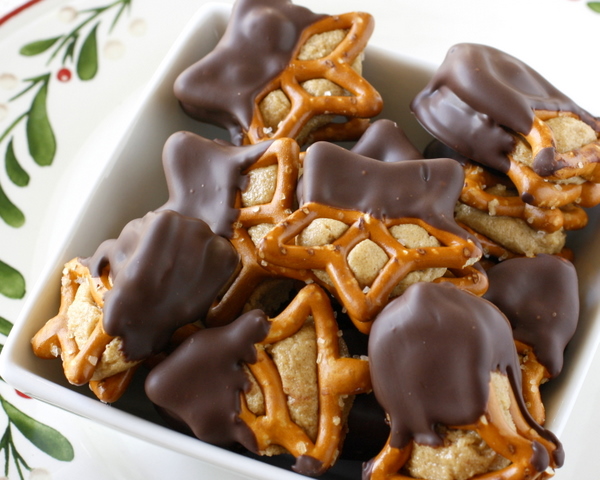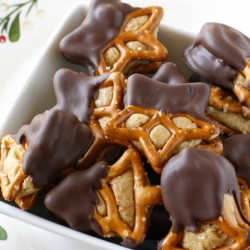 Peanut Butter Pretzel Bites
Ingredients:
1 cup creamy peanut butter
2 tablespoons softened butter
1/2 cup powdered sugar
3/4 cup brown sugar
Pretzels (You can find the holiday shaped pretzels on Amazon)
1 bag semi-sweet chocolate chips
Directions:
Line a baking sheet with wax paper and set aside. In the bowl of a stand mixer fitted with the paddle attachment, beat peanut butter and butter until combined. Scrape down bowl, add sugars and beat until combined. You should be able to roll the mixture into balls without sticking to your hands. If needed, add more powdered sugar until you reach a consistency that is easy to roll. Roll the mixture into small balls, about 1 teaspoon of mixture for each ball, and place on prepared baking sheet. Sandwich the balls between two pretzels and place in the freezer for 30 minutes. Melt the chocolate in a metal bowl over a pan of lightly simmering water. Stir occasionally until smooth, and remove from heat. Dip each pretzel bite halfway into the melted chocolate and place on the prepared baking sheet. Chill in refrigerator until chocolate is set.
http://sweetpeaskitchen.com/2011/03/25/peanut-butter-buckeye-pretzel-bites/