Beef and Broccoli Stir-Fry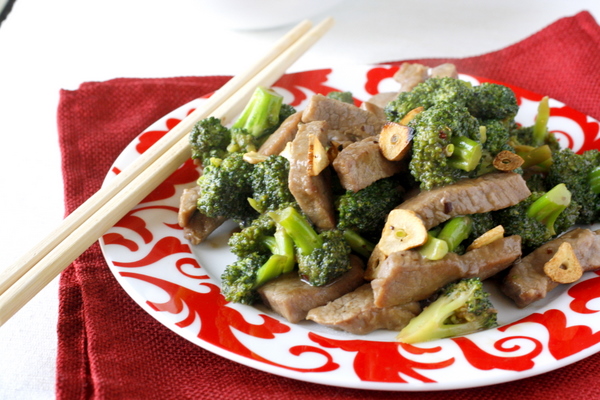 You would not believe how good this stir-fry is. Strangely enough, this is actually the first time I've ever made a stir-fry with beef in it. I'm not sure why, but when I think of stir-fry, I always think of chicken. Well all that has changed with this meal. The recipe comes from a new cookbook I got for Christmas. As I was sitting around over vacation, leafing through my new cookbooks, this recipe stood out to me as something I had to make as soon as possible. Not only do Mike and I both love stir-fry as a quick and easy dinner, but I was also looking for something healthy to start out the new year right. And this is healthy! I mean, look at all that broccoli! I have raved about this meal to everyone I talked to over the past week. The flavor is incredible and, like all stir-fry recipes, it cooks quickly. Plus I love any excuse to break out my wok and eat with chopsticks! (*Note: you do not need a wok to make this meal).  If you're looking for something quick, easy and healthy, try this beef and broccoli stir-fry. You will love it!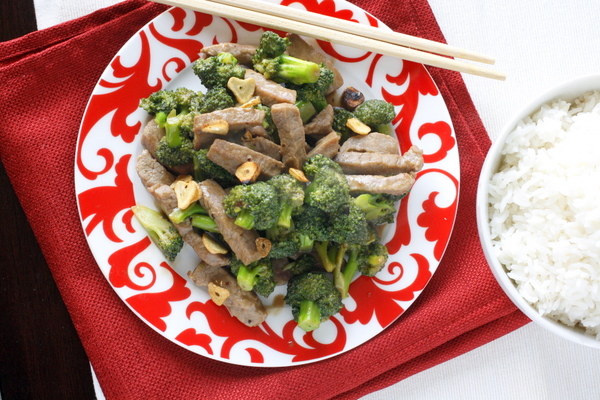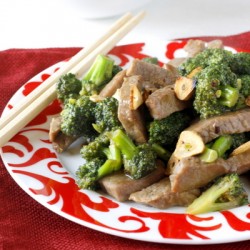 Beef and Broccoli Stir-Fry
Ingredients:
1 lb flank or skirt steak
1 Tbsp cornstarch
1/4 tsp salt
1/4 tsp sugar
1/8 tsp baking soda
2 Tbsp canola oil
3 gloves garlic, thinly sliced
1/4 tsp red pepper flakes
2 cups small broccoli florets
3 Tbsp dry white wine
2 Tbsp soy sauce
Cooked White Rice, for serving
Directions:
Cut the beef into thin strips across the grain. In a large bowl stir together the cornstarch, salt, sugar, baking soda and 2 Tbsp water. Add the beef and stir until the beef is evenly coated. Let sit at room temperature for 30 minutes.
Add the canola oil to a large frying pan and heat over medium high heat. When the oil is hot, add the garlic and red pepper flakes. Cook and stir for 1 minute, or until the garlic is crisp, then remove to a paper towel. Add the beef, broccoli and 2 Tbsp of the wine. Cook, stirring often, until the beef is cooked through and the broccoli is tender, about 5 minutes. Add the remaining Tbsp of wine and the soy sauce and cook for 1 more minute. Stir in the cooked garlic. Serve immediately with the rice.
from Cooking from the Farmer's Market