Chocolate Chip Muffins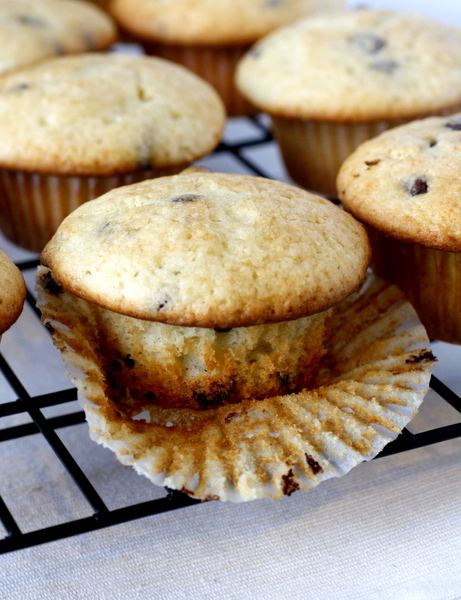 I love to make muffins. They're so quick and easy, and they almost always come out tasting amazing. You can't really beat warm muffins out of the oven. I love to make a batch on the weekends and then freeze them for lunches throughout the week.
A few weeks ago I was leafing through my new cookbooks and ran across this recipe for chocolate chip muffins. Of course I had to make them! They turned out soft and fluffy and with the perfect amount of sweetness. They taste great, but you actually realize you are eating a muffin rather than a cupcake.
I love the addition of chocolate chips too. Mike would have preferred blueberries, but since I made him muffins he can't complain too much, right? 🙂
We both really liked these and I've already started thinking up different variations to try in the future!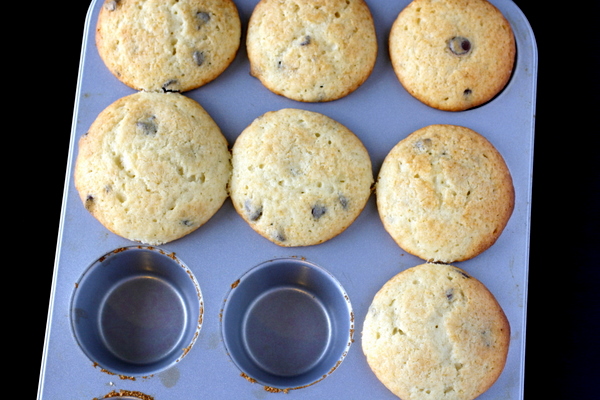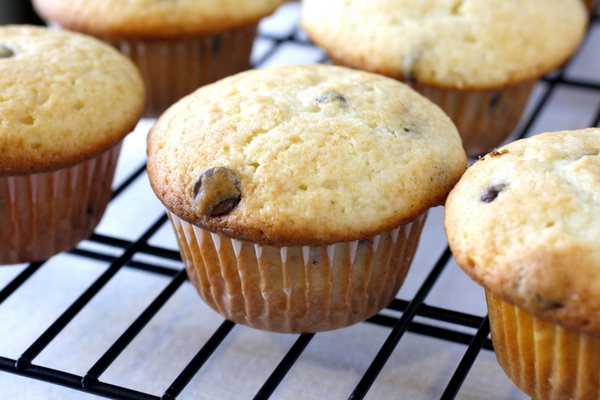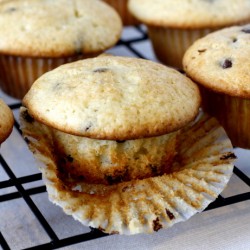 Chocolate Chip Muffins
Ingredients:
3 cups (15 oz) all purpose flour
1 Tbsp baking powder
1/2 tsp baking soda
1/2 tsp salt
10 Tbsp unsalted butter, softened
1 3/4 cups plus 3 Tbsp sugar
2 large eggs
1 1/2 cups plain yogurt
1 cup semi-sweet chocolate chips
Directions:
Place the oven rack in the lower-middle position and pre-heat the oven to 375. Line 18 muffin cups with paper liners (use fewer muffin cups if you want larger muffins).
In a medium bowl mix the flour, baking powder, baking soda and salt. Set aside.
In the bowl of a stand mixer beat the butter and sugar on medium-high spead until pale and fluffy, about 3 minutes. Beat in the eggs. Reduce speed to low and add the dry ingredients in 2 additions, alternating with 3 additions of yogurt. Stir in the chocolate chips
Divide the batter evenly among the muffin cups. Bake until the muffins are golden brown and a toothpick inserted in a center muffin comes out with moist crumbs, 20-25 minutes. Rotate the pans halfway through baking.
from The Cooks Illustrated Cookbook