Pepperoni Pizza Puffs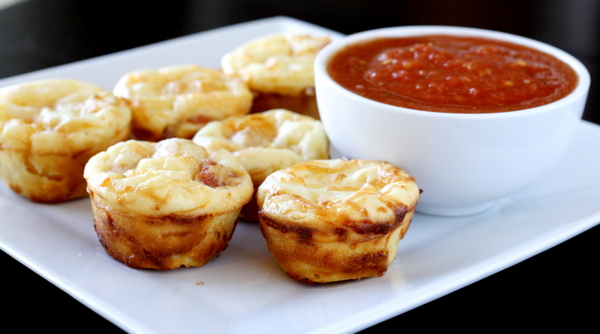 How cute are these pepperoni pizza puffs? They were a big hit around my house and would be absolutely perfect for get togethers with friends. I'm even posting them earlier than I planned just so you can make these for your Superbowl party next weekend!

These pizza puffs are like light little biscuits with pizza toppings baked right into them. I used the traditional toppings of pepperoni and mozzarella cheese and added in some chopped peppers as well. They were great like that, but I'm also interested in trying all sorts of mix-ins like pineapple, bacon, or sausage! They taste a little like the pizza bites I posted awhile ago, but these are much quicker and easier to make. They taste good on their own, but make sure you serve them with pizza sauce for dipping because that makes them taste like little bite-sized pizzas! I'm a fan of anything that tastes like pizza and these are certainly no exception.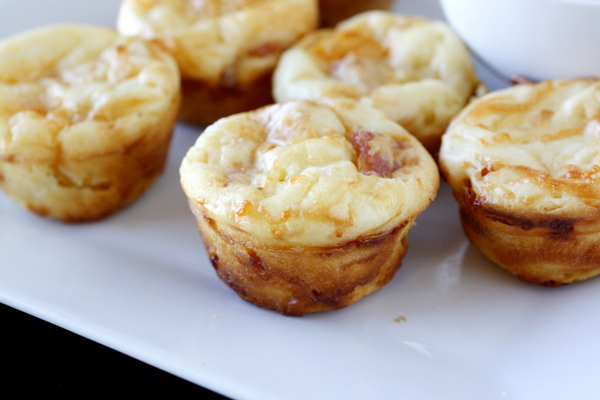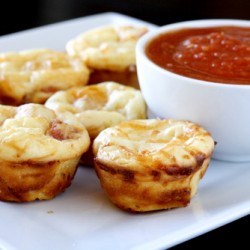 Pepperoni Pizza Puffs
Ingredients:
3/4 cup flour
3/4 tsp baking powder
1/2 tsp garlic powder
1/4 tsp oregano
3/4 cup whole milk
1 egg, lightly beaten
4 oz mozzarella cheese, shredded (about 1 cup)
2 oz pepperoni, chopped (about 1/2 cup)
1/2 cup Pizza sauce
Directions:
Pre-heat the oven to 375. Lightly grease 18-24 mini muffin cups. In a large bowl, whisk together the flour, garlic powder and baking powder. Stir in the milk and egg, then add in the mozzarella and pepperoni and mix together. Let stand for 10 minutes.
Briefly stir the batter and divide among the mini-muffin cups. Bake until puffed and golden, 20 to 25 minutes.
Meanwhile, microwave the pizza sauce until warmed through. Serve the pizza puffs with the pizza sauce for dipping.