Peanut Butter Cup Cake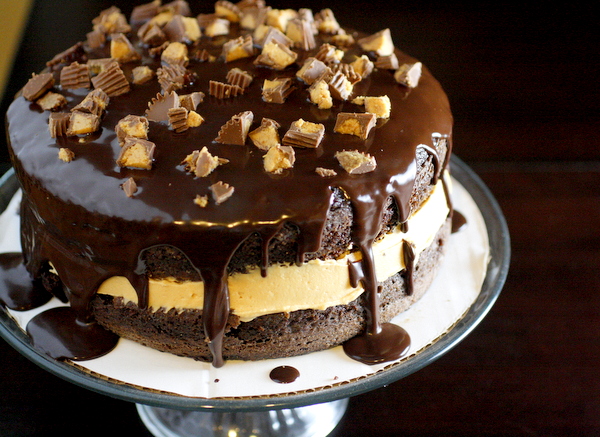 If you're anything like me, you will just have to look at the picture of this cake and you immediately want to make it. Although I didn't use the same recipe, the original idea for this cake came from A Farm Girl's Dabbles (a truly wonderful blog). As soon as I saw it, I knew I needed to make it. I've had this cake saved on my Pinterest board just waiting for the right time to attempt it. This is not a cake I want to make for no reason. Can you imagine if I had this sitting around the house with just Mike and me home to eat it? Bad, bad idea.  But finally, a friend's birthday gave me just the excuse I needed.
This  cake turned out even better than I'd hoped. It consists of creamy peanut butter icing sandwiched between moist chocolate cake and topped with chocolate ganache and chopped up peanut butter cups. Seriously, there is no way this cake is not going to be good! I used my favorite chocolate cake recipe to make this peanut butter cup cake, so I had no doubt I would love the end result. The beauty of this cake, however, is in its visual appeal. I love how it really does remind you of a peanut butter cup! And I have to point out that this takes absolutely zero cake decorating ability, a key point when you're me and your best decorated cake looks like a child could have done it. For this cake however, just spoon the ganache on top, letting it drip down over the sides (a happy accident), sprinkle crumbled candy on top and that's it! It looks incredibly impressive and really there's no need to share just how easy it was to make. 🙂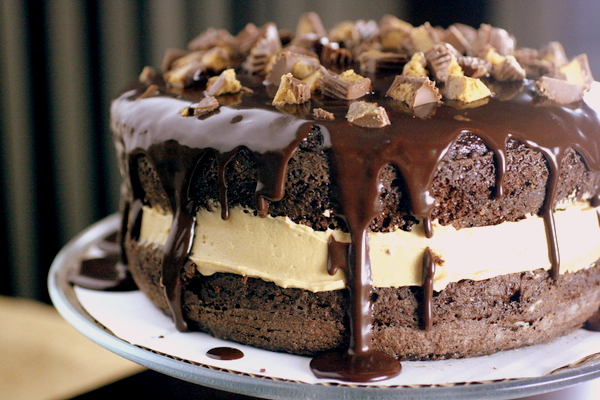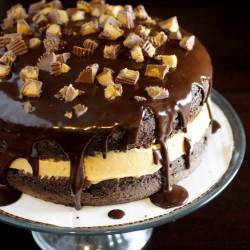 Peanut Butter Cup Cake
This recipe consists of a chocolate cake with a creamy peanut butter icing in between the layers, like a peanut butter cup! It is topped with a chocolate ganache and sprinkled with chopped peanut butter cups. Truly decadent and amazing.
Ingredients:
Cake:
1 3/4 cups all-purpose flour
2 cups granulated sugar
3/4 cup Dark Cocoa Powder
2 teaspoons baking soda
1 teaspoon baking powder
1 teaspoon salt
2 eggs
1 cup strong black coffee
1 cup buttermilk, room temperature
1/2 cup vegetable oil
1 tablespoon pure vanilla extract
Creamy Peanut Butter Icing:
1-1/2 c. creamy peanut butter
8 T. unsalted butter, at room temperature
1/4 tsp. kosher salt
1/2 c. heavy whipping cream
1-1/2 tsp. vanilla
2-1/4 c. powdered sugar
Ganache:
6 ounces bittersweet chocolate, chopped
1/2 cup heavy cream
1 tablespoon unsalted butter
2 teaspoons pure vanilla extract
chopped peanut butter cups, for the top of the cake
Directions:
For the cake:
Preheat oven to 350 F. Prepare 2 x 9″ cake pans with butter and flour or parchment paper. Sift the dry ingredients into the bowl of electric mixer. Add the remaning ingredients to the bowl. With paddle attachment on mixer, mix for 2 minutes on medium speed (you may need the plastic splashguard that comes with mixer). The batter will be liquidy. Pour into prepared pans.
Bake for 20 minutes, then rotate the pans in the oven. Bake 15 minutes longer or until a toothpick comes out clean – approximately 35 minutes total. Cool on wire racks for 20 minutes then gently invert onto racks until completely cool.
For the Peanut Butter Icing:
Place the peanut butter, butter, and salt in the bowl of a stand mixer. Beat on medium speed until thoroughly combined. Mix in the remaining ingredients. Turn the speed up to high and beat for 2 to 3 more minutes, until frosting is light and fluffy. Feel free to adjust the amount of cream and powdered sugar to get the texture you want.
For the Ganache:
Place the chocolate in a stainless-steel bowl. Heat the cream and 1 tablespoon butter in a saucepan until just boiling, then pour over the chocolate. Let stand for 5 minutes. Whisk until smooth. Add 2 teaspoons vanilla; let stand until cool but still glossy and liquid.
To assemble the cake:
Turn one of the cooled cake layers upside down on a cake board or serving platter. Spread the peanut butter icing on the cake and place the other cake layer right side up on top of the icing. Smooth out the sides. Spoon the cooled ganache on top of the cake and let it drip down the sides. Sprinkle with chopped peanut butter cups.