Buffalo Ranch Chicken Bites
I have a total treat for you today! These buffalo ranch chicken bites are absolutely amazing! I made these back before Christmas and I can't believe it took me this long to share them with you. They make a great appetizer or snack food and we actually ate them for dinner with a salad on the side. And then we reheated the leftovers in the oven for dinner the following night – that's how good these are!
The filling is a creamy mixture of chicken, hot sauce, ranch dressing and cheese. All you do is wrap the chicken mixture in bread dough, cut into bite size pieces, and bake! The flavor is perfect, and they are so creamy and cheesy that you won't be able to stop eating them! You can use frozen bread dough from the store to keep things easy, or make your own if you're feeling ambitious. Either way, these buffalo ranch chicken bites are sure to be a hit!
P.S. If you're looking for other bite-sized appetizers, you might want to check out these delicious Kielbasa Balls and Soft Pretzel Bites!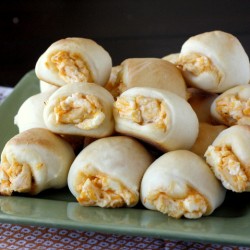 Buffalo Ranch Chicken Bites
Yield: Makes about 3 dozen bites
Ingredients:
1 cup finely diced cooked chicken breast
4 oz cream cheese, softened
1/4 cup shredded cheddar cheese
2 Tbsp hot sauce (I used Frank's brand)
2 Tbsp ranch dressing
1 lb frozen bread dough, thawed
Directions:
In a small bowl, combine the chicken, cream cheese, cheddar cheese, ranch dressing, and hot sauce; set aside.
Divide the bread dough into 4 equal pieces. Roll the first piece into a 10x4 inch rectangle. Spread 1/4 of the chicken mixture onto the lower third of the rectangle, leaving a 1/2-inch border along bottom edge. Stretch bottom edge of dough up over filling and press tightly to seal, then roll up as tightly as possible into a log. Cut the log into 1-inch pieces and place on a lined baking pan. Repeat with the remaining dough and chicken mixture. Cover and let rest for 30 minutes.
Preheat oven to 400 degrees. Bake 7-10 minutes or until the tops are lightly browned and filling is heated through. Serve immediately.