Soft Pretzel Bites
I've seen some similar soft pretzel recipes in the blog world recently, and for good reason. These soft pretzel bites would make a great snack for the Superbowl!  They taste just like soft pretzels, but in miniature form. They're chewy and salty and perfect for dipping.
They're also surprisingly easy to make. Immersing all of the tiny pretzels in a baking soda/water bath was a little time consuming, but I've heard that you can just spray them with a baking soda and water solution instead. That would definitely be a lot simpler, and it's what I'll do next time. I am already planning to make these again, but after the success of my pretzel cookies, I want to try traditional soft pretzels next! (Update: I made them and they're delicious! Click the link for the recipe: Soft Pretzels)  And pretzel twists. And pretzels shaped like letters. The options are endless. 🙂 But for the Superbowl, I recommend these cute little bites – I'm sure everyone will love them!
Looking for more soft pretzel recipes?  Check out these delicious Pretzel Rolls, Stuffed Pretzel Calzones, and  Homemade Pretzel Dogs!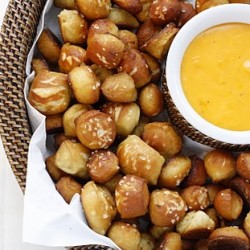 Soft Pretzel Bites
Ingredients:
1 1/2 cups warm water
2 tablespoons light brown sugar
1 package active dry yeast
3 ounces unsalted butter, melted
2 1/2 teaspoons kosher salt
4 1/2 to 5 cups all-purpose flour
Vegetable oil
3 quarts water
3/4 cup baking soda
1 whole egg, beaten with 1 tablespoon cold water
Coarse sea salt
Directions:
In the bowl of a stand mixer, combine the water, sugar, yeast, and butter and mix with the dough hook until combined. Let sit for 5 minutes. Add the salt and flour and mix on low speed until combined. Increase the speed to medium and knead until the dough is smooth and begins to pull away from the side of the bowl, about 3 to 4 minutes. If the dough appears too wet, add additional flour, 1 tablespoon at a time. Remove the dough from the bowl, place on a flat surface and knead into a ball with your hands.
Oil a bowl with vegetable oil, add the dough and turn to coat with the oil. Cover with a clean towel and let rise in a warm spot until the dough doubles in size, about 1 hour.
Preheat the oven to 425. Bring the water to a boil in a large pot over high heat and add the baking soda.
Remove the dough from the bowl and place on a flat surface. Divide the dough into 8 equal pieces and roll each piece into a long rope measuring about 22 inches. Cut the dough into one inch pieces. In small batches (about 15 at a time), boil the pretzel bites in the water solution for about 30 seconds. Remove with a large slotted spoon and place pretzel bites on a baking sheet that has been sprayed with cooking spray. Make sure they are not touching. Brush the tops with the egg wash and season with coarse sea salt. Bake for 15 to 18 minutes, or until golden brown. Remove to a baking rack and let rest 5 minutes before eating.
These are best warm, but are still good at room temperature. They are best served the day they're made.