Roasted Vegetable Stromboli
This is a Sponsored post written by me on behalf of Sargento Foods, Inc.. All opinions are 100% mine.
Do you ever fall into a lunchtime rut? Surprisingly, back when I worked full time, I was pretty good at packing myself a varied and healthy lunch. However, now that I stay home all day with a baby who is not yet on a solid schedule, I find myself just grabbing whatever is easy and convenient. When Sargento contacted me to come up with a unique recipe to "take back lunch", I knew I was up for the challenge.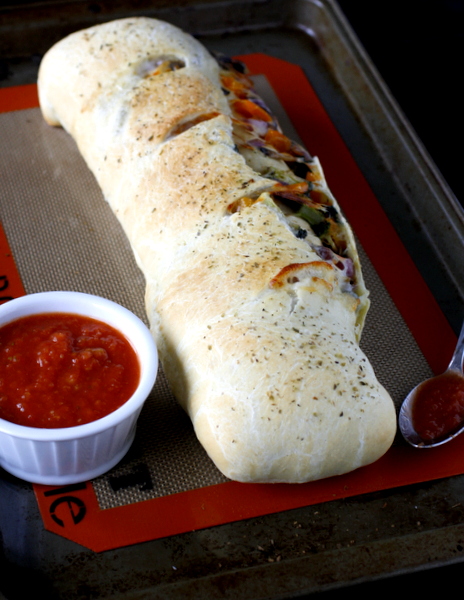 This roasted vegetable stromboli is everything lunch should be – warm and comforting, healthy, and quick and easy to reheat.  I've been on a pizza kick lately, so the idea of a stromboli really jumped out at me. Of course, I wanted it to be healthy as well, so I decided to fill it chock full of a variety of roasted vegetables.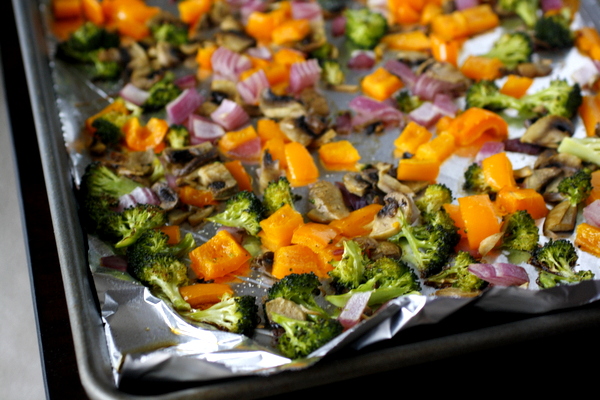 For the cheese (because a stromboli has to have cheese!), I used Sargento Ultra Thin Sliced Provolone Cheese, and it worked perfectly. I loved the ultra thin cut, because it made it easier to get cheese in every bite while still keeping the total amount of cheese to a reasonable amount. The provolone paired perfectly with the roasted vegetables, and the end result was absolutely delicious.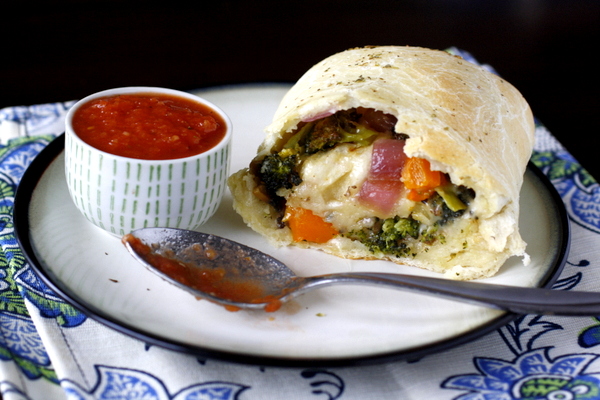 I actually made the stromboli in advance, sliced it once it was cool, and reheated the slices the following day.  This worked out perfectly and made for a great quick and easy lunch. Plus, it is easily customizable! Try some different veggies like zucchini or summer squash, or divide the dough and make mini strombolis to make it even easier to re-heat. If you're finding yourself in a lunch rut, give this roasted vegetable stromboli a try – you'll be glad you did!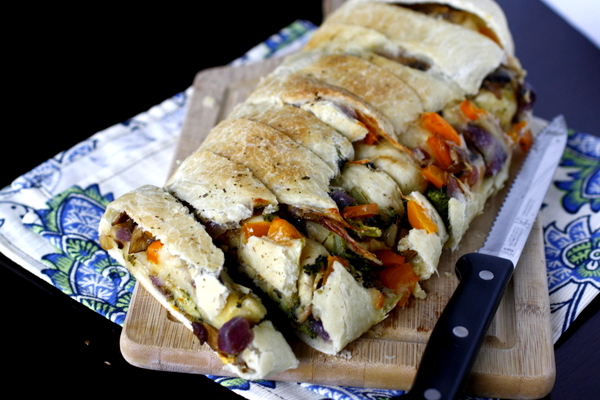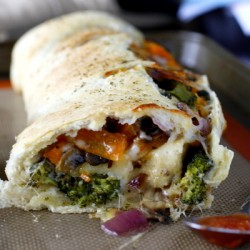 Roasted Vegetable Stromboli
Ingredients:
1/2 red onion
1/2 head of broccoli
1 medium red pepper
8 oz white mushrooms
2 Tbsp olive oil, plus more for the top of the stromboli
12 slices Sargento Ultra Thin Provolone Cheese
1 lb prepared pizza dough (I used half of my favorite homemade pizza dough recipe)
1/2 tsp dried oregano
Pizza Sauce, for serving (This homemade pizza sauce is my favorite!)
Directions:
Preheat oven to 400F. Spray a large baking sheet with non-stick cooking spray and set aside. Chop the vegetables into bite sized pieces and toss with the olive oil. Spread the vegetables on the tray and season with salt and pepper. Bake 20 minutes, or until the vegetables are tender.
Change the baking temperature to 450F. Roll the pizza dough out into a large rectangle. Layer the cheese slices over the dough, leaving a small border of dough at the far end for sealing the stromboli shut. Spread the roasted vegetables over the cheese. Starting with the side nearest you, roll the dough up until it resembles a log. Cut 3-4 slits in the top with a sharp knife and brush with olive oil and sprinkle with dried oregano. Bake for 15-20 minutes, or until golden brown. Serve with pizza sauce.