Gingerbread Whoopie Pies
Day 12 of the 12 Days of Christmas Treats! I can't believe we are at the end of the 12 Days of Christmas Treats for this year. But good news – I saved one of the best for last. 🙂 You will love these gingerbread whoopie pies! I love trying different flavors of whoopie pies (in the past I've made pumpkin, s'mores and red velvet versions), and these are just as good, if not better, than previous versions.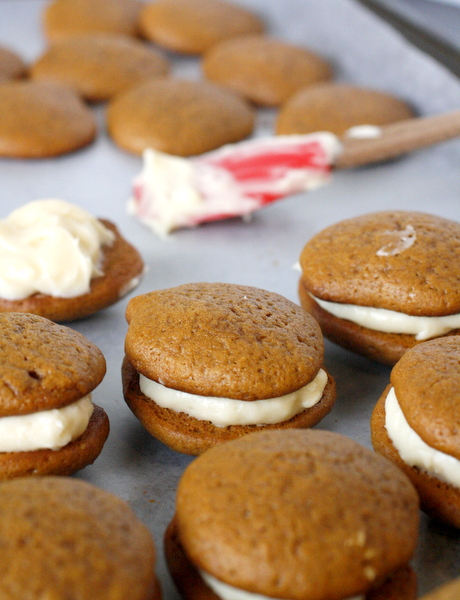 For those who aren't familiar, a whoopie pie is just 2 cake-like cookies sandwiched around a creamy filling. In this case the cookies are gingerbread flavored, and the filling is a simple cream cheese icing. The gingerbread flavor is strong, which I love, but be careful if you're not a huge gingerbread fan. The cream cheese icing is the perfect accompaniment, and these cookies are so fun to make and eat. Plus, they look pretty cute and impressive on your cookie tray! I sprinkled powdered sugar on top for an extra festive top, but feel free to leave it off if you prefer. Enjoy!!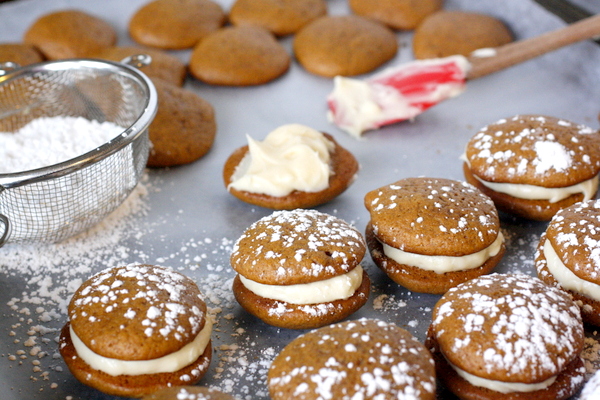 Click here to see the rest of the 12 Days of Christmas Treats 2013. Or you can see all of my Christmas treat recipes from over the years at this Christmas Cookies tag. Enjoy! And, as always, let me know if you try any and how you liked them.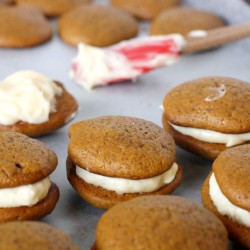 Gingerbread Whoopie Pies
Yield: Makes about 32 whoopie pies
Ingredients:
2 1/2 cups all purpose flour
1/2 tsp salt
1 tsp baking powder
1/4 tsp baking soda
1 1/2 tsp ground ginger
1 tsp ground cinnamon
1/4 tsp ground cloves
1/2 cup unsalted butter, softened
1/4 cup brown sugar, firmly packed
1 large egg
3/4 cup molasses
1/2 cup buttermilk
Filling:
2 cups confectioners' sugar
2/3 cup cream cheese, softened
5 Tbsp soft butter
1 1/4 tsp vanilla extract
Directions:
To make the cakes:
Preheat the oven to 375°F. Line baking sheets with parchment paper and set aside.
In a medium sized bowl, whisk together the flour, salt, baking powder, baking soda, ginger, cinnamon, and cloves; set aside.
In a large bowl, combine the butter and brown sugar, beating until the mixture is fluffy. Beat in the egg, scraping the bottom and sides of the bowl. Add half the dry ingredients and mix to combine, then beat in the molasses, the remaining dry ingredients, and the buttermilk.
Use a rounded teaspoonful to drop the batter onto the prepared baking sheets, leaving at least 1" between cakes to allow for spread. Bake cakes until puffed and set, about 10 to 12 minutes. Remove from the oven, and cool on the pans until set enough to move to a cooling rack to cool completely.
Make the filling:
Beat together the cream cheese, butter, and vanilla until smooth. Gradually beat in the powdered sugar until smooth and creamy.
To assemble the cakes, spread a heaping teaspoonful of filling onto the flat side of half the cakes. Top each filled cake with a second, unfilled cake, rounded side up, and refrigerate until ready to serve.