Pumpkin Whoopie Pies
This is one of my favorite fall recipes (also known as pumpkin gobs). Last year when I discovered the recipe, I think I made them three times in a one week time period! (Don't worry, I gave most of them away). Everyone that has tried these loves them. Cream cheese icing with a hint of cinnamon, sandwiched between two soft, cake-like pumpkin cookies. This pumpkin version puts traditional chocolate whoopie pies to shame!
Mike loves these and was looking forward to their reappearance this year. He was travelling this week, and expressed much disappointment when I told him that I made them to take to his dad and sister. Thankfully I remembered to freeze a few for when he gets home, a fact which earned me the title "Best Wife Ever." It's the little things that count 🙂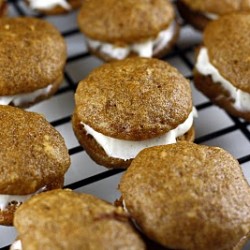 Pumpkin Whoopie Pies
Ingredients:
Cookie:
1 stick unsalted butter, melted
1 cup packed light brown sugar
2 large eggs, at room temperature, lightly beaten
1 cup canned pure pumpkin puree
1 tablespoon pumpkin pie spice
1 teaspoons pure vanilla extract
1 teaspoon baking powder
1 teaspoon baking soda
3/4 teaspoon salt
1-2/3 cups flour
Icing:
1/2 stick unsalted butter, softened
4 ounces cream cheese, chilled
1 cup confectioners' sugar
2 pinches of salt
1/2 teaspoon vanilla extract
a few shakes of cinnamon
Directions:
For the cookies: Preheat the oven to 350°. Line two baking sheets with parchment paper.
In a large bowl, whisk together the melted butter and brown sugar until smooth. Whisk in the eggs, pumpkin puree, pumpkin pie spice, 1 teaspoon vanilla, the baking powder, the baking soda and 3/4 teaspoon salt. Using a rubber spatula, fold in the flour.
Using a spoon, drop small mounds of batter, spaced evenly, onto each baking sheet. Bake until springy to the touch, about 10 minutes. Transfer to a rack to cool completely.
For the icing: using an electric mixer, cream the softened butter with the cream cheese. Add the confectioners' sugar and the remaining 2 pinches salt, 1/2 teaspoon vanilla, and cinnamon; mix on low speed until blended, then beat on medium-high speed until fluffy, about 2 minutes.
Spread the flat side of half of the cakes with the cream cheese frosting. Top each with another cake.