Red Velvet Whoopie Pies
These red velvet whoopie pies are the perfect dessert for Valentine's Day. And they're the perfect recipe to share on my blog during Valentine's week. 🙂 I saw a recipe for these cute cookies a long time ago in a magazine, and saved the idea until now. I'm so glad I remembered that I had this recipe because it turns out red velvet whoopie pies are pretty amazing! The cookie part is basically a cross between red velvet cake and a soft fluffy sugar cookie, and the cream cheese filling is reminiscent of cream cheese icing on top of red velvet cake. Red velvet and cream cheese is definitely a match made in heaven. 🙂 You will love these cookies and they'll make the perfect festive treat for Valentine's Day!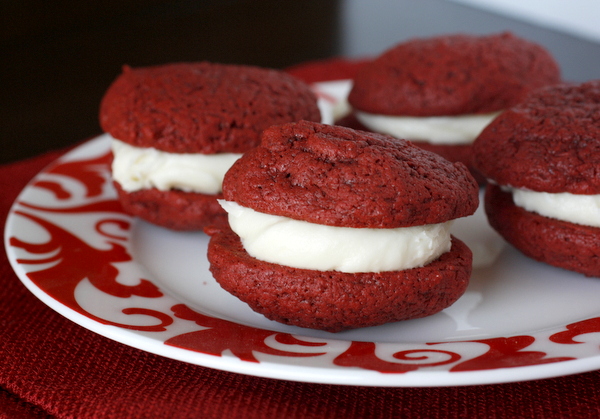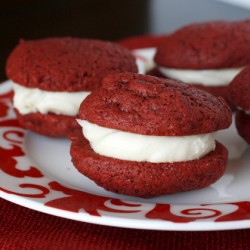 Red Velvet Whoopie Pies
Ingredients:
For the Cookies:
1 ounce semisweet chocolate, chopped
1/2 ounce milk chocolate, chopped
12 tablespoons unsalted butter, melted
1/2 cup sour cream
2 large eggs
1 1/2 teaspoons apple cider vinegar
1/2 teaspoon vanilla extract
1 tablespoon liquid red food coloring
2 1/4 cups all-purpose flour
1 cup granulated sugar
1/4 cup unsweetened cocoa powder
2 teaspoons baking powder
1/4 teaspoon baking soda
1/2 teaspoon salt
For the Filling:
8 ounces cream cheese, at room temperature
3 tablespoons unsalted butter, at room temperature
2 1/2 cups confectioners' sugar, sifted
1/2 tsp vanilla extract
Directions:
Preheat the oven to 375 degrees and line 2 large baking sheets with parchment paper. Combine the semisweet and milk chocolate in a microwave-safe bowl and microwave at 50 percent power until melted, about 2 minutes, stirring every 30 seconds.
In a large bowl, whisk together the melted butter, sour cream, eggs, vinegar, vanilla and food coloring. In a separate bowl, whisk the flour, sugar, cocoa powder, baking powder, baking soda and salt. Add the flour mixture to the butter mixture in four equal batches, whisking each batch completely before adding the next. Stir in the melted chocolate.
Scoop tablespoonfuls of batter onto the prepared baking sheets and smooth the tops with a damp finger. Bake until the cookies spring back when lightly pressed, 7-8 minutes. Let cool 5 minutes on the baking sheet, then transfer to racks to cool completely before adding the filling.
For the filling: Beat the cream cheese and butter with a mixer until smooth. Beat in the confectioners' sugar and vanilla. Sandwich a heaping tablespoonful of filling between 2 cookies; repeat with the remaining cookies and filling.
from Food Network Magazine