Peanut Butter Granola Bites
You are going to love these peanut butter granola bites! They are perfect for this time of year – healthy and full of good-for-you things, but still a little sweet and treat-like to help you get through the transition period after the holidays.

I am not the type of person that can give up sweets altogether, and so these healthy little granola bites are perfect! I don't feel guilty eating one as a dessert or snack, and I feel good about myself for choosing something healthier than a cookie. Plus they are delicious, which is a nice added bonus.  Needless to say, I love these and I hope you do too

p.s. I've been somewhat hoarding these from Mike. I give him leftover oreo balls in his lunch and keep these for myself 😉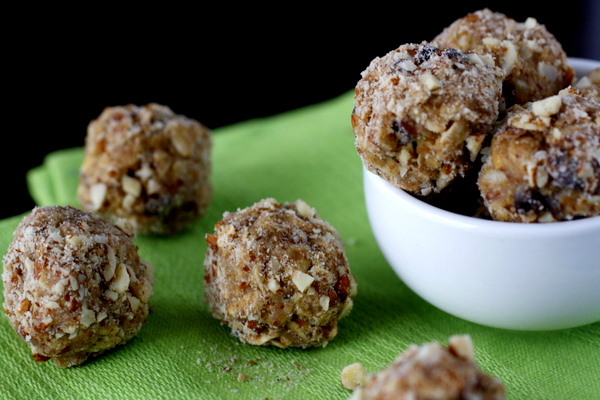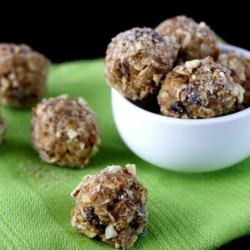 Peanut Butter Granola Bites
Ingredients:
1 cup old-fashioned rolled oats
1/4 cup wheat germ
1/4 cup sliced almonds, chopped
1/8 teaspoon cinnamon
a pinch of salt
1/4 cup + 2 tablespoons creamy peanut butter, melted and slightly cooled
1/4 cup + 1 tablespoon honey
1/4 teaspoon vanilla extract
2 tablespoons mini chocolate chips
1/4 cup almonds, to roll the balls in
Directions:
In a large bowl, stir together the oats, weat germ, almonds, salt and cinnamon.
In a separate bowl, mix together the peanut butter, honey and vanilla.
Pour over the oat mixture and mix well. Fold in chocolate chips.
Roll dough into ping pong ball sized balls, then roll in ground almonds.
Store in an air-tight container in the refrigerator.