Triple Chocolate Fudge Cookies
Day 11 of the 12 Days of Christmas Treats! How good do these triple chocolate fudge cookies look?? And, I can tell you from experience, they taste even better than they look.
I ate one off the cookie sheet, still warm from the oven, and couldn't believe how good it was. I immediately called Mike into the kitchen and proudly  showed him "the best cookies I've ever made." Of course he had to try one as well. 🙂
These cookies are completely soft and fudgy and chock full of melted chocolate. They are definitely best warm, but still taste great at room temperature. I actually took these pictures the day after I made them (I usually freeze cookies the day I make them to preserve freshness), and you can tell they are still soft and fudgy.
If you are craving chocolate, look no further than these triple chocolate fudge cookies – you will love them!
*See all 12 days of Christmas Treats from 2014 here! 🙂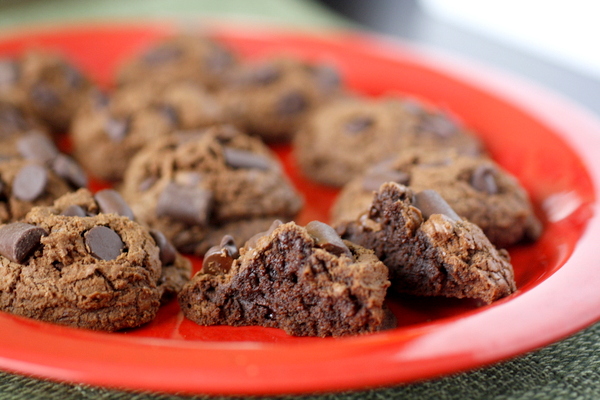 *Check out the delicious treats from previous years!  Peppermint Fudge Cookies | Mint Truffles | Chocolate Gingerbread Cookies| Soft Iced Oatmeal Cookies
P.S. You can see all of my Christmas treat recipes from over the years at this Christmas Cookies tag. Enjoy! And, as always, let me know if you try any and how you liked them.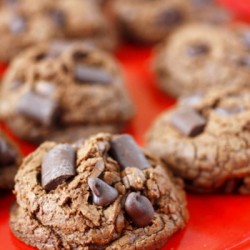 Triple Chocolate Fudge Cookies
Ingredients:
8 oz semisweet baking chocolate, chopped
6 Tbsp butter
2 Eggs
3/4 cup granulated sugar
1 tsp vanilla extract
1 1/3 cups all-purpose flour
1/4 tsp baking powder
4 oz chocolate chips or chunks
1 cup chocolate chips or chunks
Directions:
In a heatproof bowl, melt 8 ounces of chocolate and butter in the microwave, stirring every 30 seconds. Let cool slightly.
In a medium sized bowl, beat together eggs, sugar, and vanilla for about 5 minutes at medium speed. The mixture will thicken slightly and become frothy.
Stir the melted chocolate into the egg mixture and gently stir in the flour and baking powder. With a spatula, fold in the 4 ounces of chocolate chips or chunks.
Place the mixing bowl in the fridge and chill for 30 minutes.
Using a large cookie dough scoop (or about 2 Tbsp of dough), drop cookie dough on a baking sheet lined with parchment paper.
Refrigerate the scooped cookie dough for at least 2 hours before baking.
Heat the oven to 350F. Bake the cookies for 15-16 minutes, or until just set.
Immediately place a few of the reserved chocolate chips and chunks on top of the cookies. Let cool 5 minutes before transferring cookies to a wire rack to cool completely.