Soft Iced Oatmeal Cookies
These soft iced oatmeal cookies are truly a classic!
Day 11 of the 12 Days of Christmas Treats! These soft iced oatmeal cookies are a classic. They are incredibly soft and chewy, and there is something appealing about how simple they are.
The oats are pulsed in the food processor before being mixed into the cookies and I think that contributes to the wonderful texture of these cookies.  There is also plenty of cinnamon and nutmeg added in as well, giving them a perfectly spiced flavor. The cookies are good by themselves (especially warm out of the oven!), but are even better once the glaze is added.
They are definitely addicting, so don't say I didn't warn you. I hope you try these – sometimes it's nice to have a simple and classic alternative to the more decadent cookie options this time of year. 🙂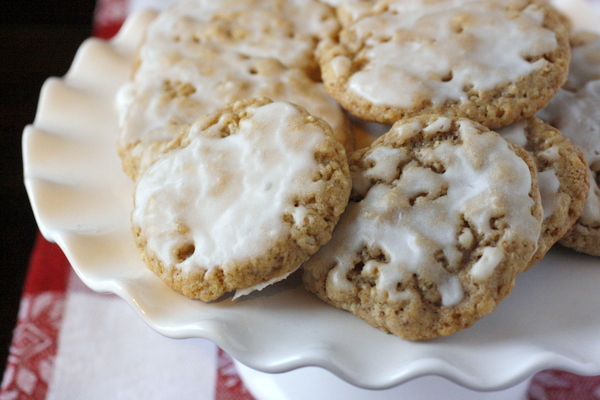 Click here to see the rest of the 12 Days of Christmas Treats 2013. Or you can see all of my Christmas treat recipes from over the years at this Christmas Cookies tag. Enjoy! And, as always, let me know if you try any and how you liked them.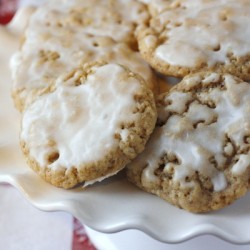 Soft Iced Oatmeal Cookies
Ingredients:
Cookies:
2 cups old-fashioned rolled oats
2 cups all purpose flour
1 Tbsp baking powder
1/2 tsp baking soda
1/2 tsp salt
2 tsp cinnamon
1/2 tsp ground nutmeg
1 cup (2 sticks) butter, softened
1 cup light brown sugar
1/2 cup sugar
2 large eggs
1 tsp vanilla extract
Glaze:
2 cups confectioners sugar
3 Tbsp milk
Directions:
Preheat oven to 350. Line baking sheets with parchment paper and set aside.
Place rolled oats in a food processor and pulse for 10-20 seconds, or until coarse. In a medium sized bowl, whisk together the pulsed oats, flour, baking powder, baking soda, salt, cinnamon and nutmeg.
In the bowl of an electric mixer cream butter and sugars until smooth. Add in eggs one at a time, beating after each addition. Beat in the vanilla. Gradually mix in flour mixture and until combined. Cover and chill 30 minutes to 1 hour.
Roll dough into 2 tablespoon size balls and place on baking sheet spacing about 2 inches apart. Bake for 10-12 minutes, or until the bottoms begin to brown. Cool on the baking sheet for 5 minutes before transferring to a wire rack to cool completely.
Make the glaze: Mix confectioners sugar and milk together in a medium bowl until smooth. Quickly dip tops of cookies into glaze and let excess drip off. Place back on wire rack until glaze sets. Store cookies in an airtight container.