Double Chocolate Biscotti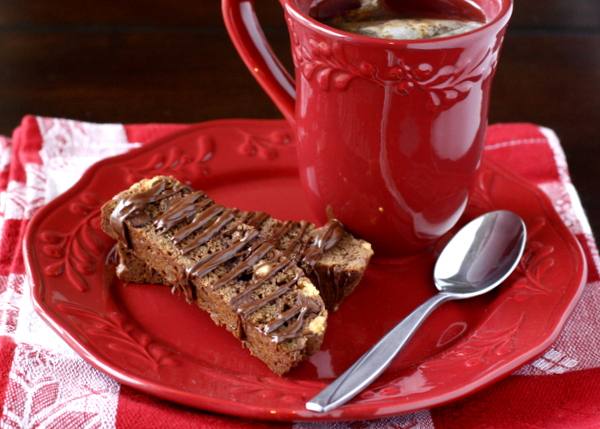 I think I say this every year, but I absolutely love biscotti. It's actually one of my favorite Christmas cookies, and sitting down with a cup of tea and a cookie is truly one of life's simple pleasures.
In the past I've made traditional almond biscotti and festive candy cane biscotti, but this year I decided to try a decadent chocolate version.  I didn't think anything could surpass the candy cane version, but I was wrong. These are incredible.
They have an intense chocolate flavor,  the perfect crunchy (but not too crunchy) texture, and would be delicious dipped in tea or coffee. Even before they went in for their second bake, I couldn't stop nibbling at all the ends and broken bits. And of course, after they were completely done (and I drizzled them in even more chocolate…), I immediately made myself a cup of tea, took a few pictures, and enjoyed one of my new favorite Christmas cookies.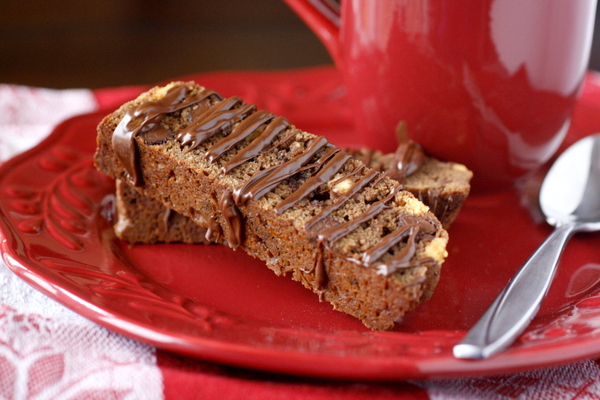 P.S. You can see all of my Christmas treat recipes from over the years at this Christmas Cookies tag. Enjoy! And, as always, let me know if you try any and how you liked them.
Double Chocolate Biscotti
Ingredients:
1/2 cup butter, softened
2/3 cup white sugar
1/4 cup unsweetened cocoa powder
1 teaspoons baking powder
2 eggs
1/2 tsp vanilla
1 3/4 cups all-purpose flour
1/4 tsp salt
4 (1 ounce) squares white chocolate, chopped
3/4 cup semisweet chocolate chips
extra chocolate, for drizzling
Directions:
In a large bowl, cream the butter and sugar until light and fluffy. Add the cocoa and baking powder and beat for 2 minutes. Beat in the eggs one at a time. Stir in flour by hand. Mix in the white chocolate and chocolate chips. Cover dough and chill for about 10 minutes.
Preheat oven to 375 degrees. Divide dough into two parts, and form each part into a 9 inch log. Place logs on lightly greased cookie sheet, about 4 inches apart. Flatten slightly.
Bake for 20 to 25 minutes, or until toothpick inserted in center comes out clean. Remove from oven; reduce oven temperature to 325°F. Cool 10 minutes on cookie sheet.
Carefully remove logs to cutting surface. Cut into 1/2-inch slices with sharp serrated knife. Arrange pieces on same cookie sheet, cut-side down and bake at 325 degrees for 9 minutes. Turn cookies over, and bake for 7 minutes. Cool completely, then drizzle with melted chocolate.