Candy Cane Biscotti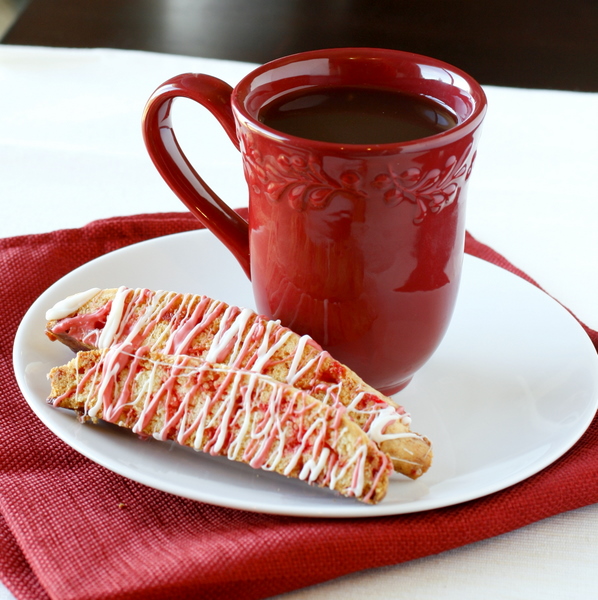 Growing up, biscotti were an integral part of our Christmas cookie collection. I've written about them before (a more traditional version – wonderful!), but this one is different enough to warrant it's own recipe post as part of the 12 Days of Christmas Treats.
These peppermint flavored cookies, (complete with crushed candy canes inside them) are perfect for Christmas morning. I love waking up on Christmas morning and having biscotti and tea for breakfast, and this year, these are on the menu.  I shared some with my mom over Thanksgiving and she went so far as to say they were the best biscotti she's ever had!
Sweet and crunchy, these biscotti have a great peppermint flavor, and would be perfect dipped into a steaming cup of hot chocolate. And best of all, they make your whole house smell like Christmas as they're baking. 🙂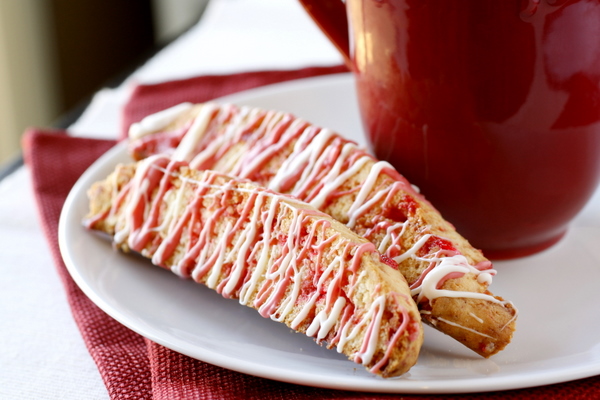 P.S. You can see all of my Christmas treat recipes from over the years at this Christmas Cookies tag. Enjoy! And, as always, let me know if you try any and how you liked them.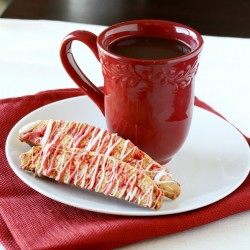 Candy Cane Biscotti
Yield: 4 dozen small cookies
Ingredients:
1/2 cup unsalted butter, softened
1/2 cup sugar
3 large eggs
2 1/2 cups all-purpose flour
1 1/2 teaspoons baking powder
1/4 tsp salt
2/3 cup finely crushed peppermint candy canes (about 8 candy canes)
White Chocolate for drizzling
Extra crushed candy canes, for garnish
Directions:
Pre-Heat oven to 350°F. In a medium sized bowl combine the flour, baking powder and salt and set aside.Combine butter and sugar in large bowl and beat at medium speed, scraping bowl often, until creamy, about 2 minutes. Beat in eggs. With the mixer on low, gradually add the flour mixture, beating until just combined. Stir in crushed candy.
Divide dough into fourths on lightly floured surface with lightly floured hands. Shape each into 9x1 1/2-inch logs. Place logs 3 inches apart onto lightly greased large cookie sheet. Bake for 18 to 20 minutes or until tops are cracked and ends just start to turn light brown. *Note: For larger cookies, as you see pictured here, divide the dough in half and shape into two logs. You will have to bake them slightly longer than instructed above.
Remove from oven; reduce oven temperature to 325°F. Cool logs 10 minutes on cookie sheet.
Carefully remove logs to cutting surface. Cut into 1/2-inch slices with sharp serrated knife. Arrange pieces on same cookie sheet, cut-side down. Continue baking for 12 to 14 minutes, turning once, or until cookies are lightly browned and crisp on both sides. Remove to wire cooling rack; cool completely.
Melt the chocolate in the microwave in short intervals, then drizzle over the biscotti. Sprinkle extra crushed candy canes on top if desired. *Note: I used a little bit of white chocolate and a little bit of peppermint crunch chips to drizzle.