Ginger Molasses Pillow Cookies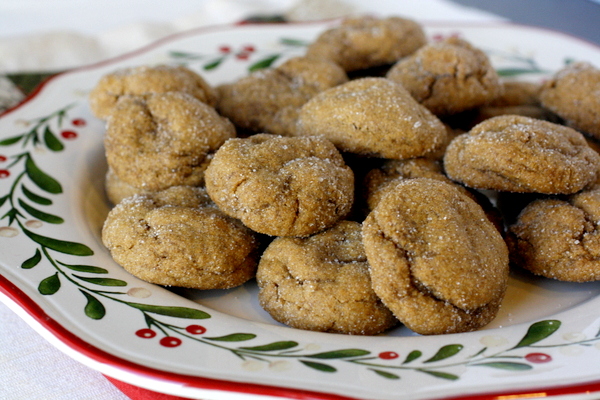 It's pretty much a given that I will post a molasses ginger cookie at some point during the 12 Days of Christmas Treats.  Each year, without fail, I can't help but make a new version, and actually, I've got another version coming in a few days!
I love the spicy taste of these types of cookies, and I'm always looking for one that's just a little bit thicker and chewier than previous versions. Well, I think I hit my soft and chewy limit with these cookies! I re-named them molasses ginger pillow cookies because they are so fluffy and thick. The spice mixture is perfect, but the texture of these is really what sets them apart. If you love thick and chewy cookies, these will be right up your alley!
*Note: I didn't realize it until I was about to hit "publish", but these are very similar to some that I posted last year – White Chocolate Topped Gingerbread Cookies. Either plain, or topped with white chocolate, these are sure to be a hit. 🙂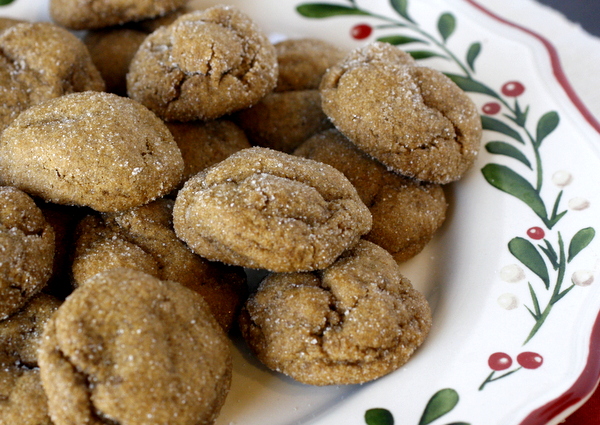 P.S. You can see all of my Christmas treat recipes from over the years at this Christmas Cookies tag. Enjoy! And, as always, let me know if you try any and how you liked them.
Ginger Molasses Pillow Cookies
Ingredients:
3 cups all-purpose flour
1 teaspoon baking soda
2 teaspoons ground ginger
1 and 1/4 teaspoon ground cinnamon
1/4 teaspoon ground cloves
1/4 teaspoon nutmeg
1/2 teaspoon salt
3/4 cup (1.5 sticks) unsalted butter, softened to room temperature
3/4 cup dark brown sugar
1/3 cup dark molasses
1 egg, at room temperature
2 teaspoons vanilla extract
1/3 cup granulated sugar, for rolling
Directions:
Whisk together the flour, baking soda, ginger, cinnamon, cloves, nutmeg, and salt in a large bowl and set aside.
In a large bowl, beat the butter and sugar together until light and fluffy. Add the molasses, egg, and vanilla and beat well, scraping down the sides of the bowl as needed. With the mixer on low, slowly add the flour mixture, mixing just until combined. Cover and chill for 4 hours or overnight.
Preheat oven to 350F and line a large baking sheet with parchment paper. Shape dough into 1-inch balls and roll in granulated sugar. Place balls 2 inches apart and bake for 8-10 minutes, or until the edges are just turning brown – cookies will be puffy and still appear soft in the middle.