White Chocolate Topped Gingerbread Cookies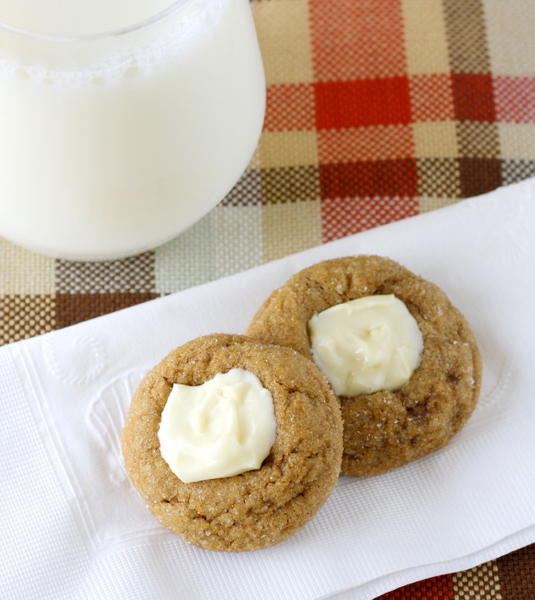 I can't believe it's already day 12 of the 12 Days of Christmas Treats! I spend so much time baking cookies and taking pictures ahead of time and then it seems like the actual 12 days of posts goes so quickly! But at the very least, I saved one of the best cookies for last.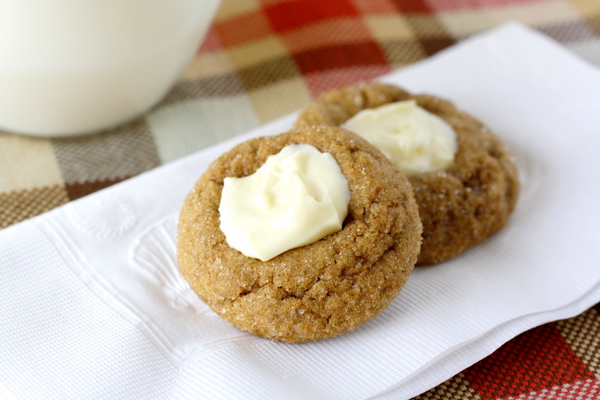 These gingerbread cookies are thick and chewy, almost like a cookie form of gingerbread cake. The white chocolate center just makes them even more delicious. White chocolate and gingerbread go together perfectly and these cookies are no exception.
These gingerbread cookies are a great treat for Christmas and out of all the treats I made this year, these cookies were some of our favorites!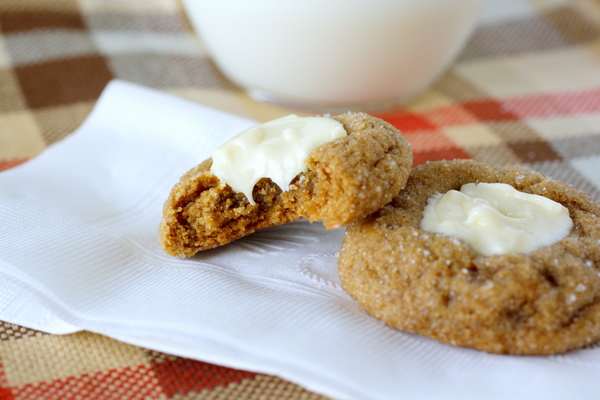 P.S. You can see all of my Christmas treat recipes from over the years at this Christmas Cookies tag. Enjoy! And, as always, let me know if you try any and how you liked them.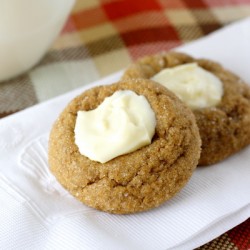 White Chocolate Topped Gingerbread Cookies
Yield: about 5 dozen cookies
Ingredients:
3 cups flour
2 tsp. Ginger, Ground
1 tsp. Cinnamon, Ground
1 tsp. baking soda
1/4 tsp. Nutmeg, Ground
1/4 tap salt
3/4 cup (1 1/2 sticks) unsalted butter, at room temperature
3/4 cup firmly packed brown sugar
1/2 cup molasses
1 egg
1/4 cup granulated sugar
1 tsp. Vanilla Extract
~8 oz white chocolate, cut into small chunks
Directions:
Mix flour, ginger, cinnamon, baking soda, nutmeg and salt in large bowl.
In a separate bowl, beat butter and brown sugar with electric mixer on medium speed until light and fluffy. Add molasses, egg and vanilla and beat well. Gradually beat in flour mixture on low speed until well mixed.
Press dough into a thick flat disk. Wrap in plastic wrap. Refrigerate 4 hours or overnight.
Preheat oven to 350°F. Shape dough into 1-inch balls and roll in granulated sugar. Place 2 inches apart on ungreased baking sheets. Bake 8 to 10 minutes or until edges of cookies just begin to brown. Immediately press a chunk of white chocolate into the center of each cookie. Leave on the cookie sheet until the chocolate begins to melt. Use the back of a spoon to swirl it into a little chocolate puddle. Remove cookies to wire racks; cool completely. Store cookies in airtight container up to 5 days.