Pulled Pork Sandwiches with Lime Ginger Mayonnaise
I love pulled pork. It's one of my favorite meals, and it doesn't hurt that it's so easy to make. I love trying different recipes, and you'll actually find quite a few recipes for pulled pork on this blog. (Hawaiian Pulled Pork and Puerto Rican Pulled Pork are also great, just to name a few). You can never have too many versions of a good thing, though. 🙂 I found this recipe in the most recent Penzey's catalog, and of course I had to try it. This pork is great for sandwiches. The seasonings give it a good amount of flavor, and the cooking liquid keeps it nice and moist. At the end of the cooking time, you remove the pork, shred it, and stir in just a little bit of the reserved liquid. I love this because it gives a little extra flavor, but the pork is just dry enough that it's easy to eat as a sandwich. We loved these sandwiches with the ginger lime mayonnaise, but we also enjoyed the leftovers with a little bit of barbecue sauce on top. The recipe is very versatile and Mike and I both really liked this version of pulled pork – enough to eat it for dinner three days in a row! 🙂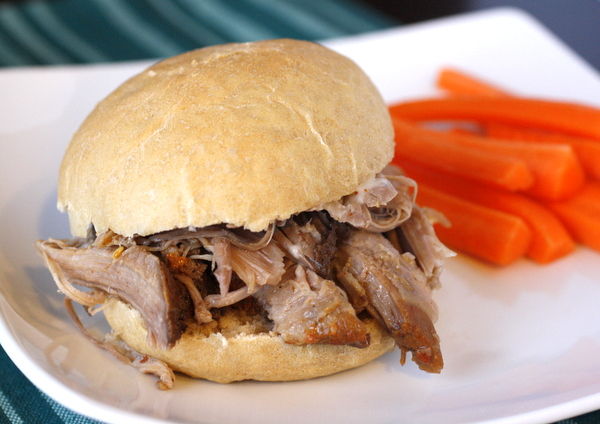 Pulled Pork Sandwiches with Lime Ginger Mayonnaise
Yield: Serves 12
Prep Time: 10 min
Cook Time: 10 hours
Total Time: 10 hours 10 min
Ingredients:
1 4-lb pork shoulder roast
1 large onion, thinly sliced
2 Tbsp brown sugar
1 Tbsp paprika
2 tsp kosher salt
1/2 tsp pepper
3/4 cup cider vinegar
4 tsp Worcestershire sauce
1 1/2 tsp crushed red pepper flakes
1 1/2 tsp sugar
1/2 tsp mustard powder
1/2 tsp garlic salt
1/4 tsp cayenne pepper
12 crusty rolls
Lime Ginger Mayonnaise
4 Tbsp mayonnaise
2 tsp fresh lime juice
1/2 tsp powdered ginger
Directions:
Rinse the pork roast under cold water and pat dry with paper towels. Layer the onions in the bottom of the slow cooker. In a small bowl, combine the brown sugar, paprika, salt and pepper. Rub the mixture all over the roast and place the roast on top of the onions.
In a medium bowl, combine the vinegar, Worcestershire, crushed red pepper flakes, sugar, mustard powder, garlic salt and cayenne pepper. Drizzle about 1/3 of the vinegar mixture over the roast. Cover and refrigerate the remaining vinegar mixture. Place the lid on the slow cooker and cook on low for 10-12 hours. Drizzle about 1/3 of the reserved vinegar mixture over the roast during the last 1/2 hour of cooking. Remove the meat and onions from the cooker, drain and place in a serving bowl. Shred the meat. Mix the remaining vinegar mixture into the shredded meat. Serve on crusty rolls with lime-ginger mayonnaise.
To make the mayonnaise, combine all of the ingredients in a small bowl and mix well. Refrigerate until ready to use.
from the Penzey's Spice catalog