Slow Cooked Puerto Rican Pulled Pork
This pork recipe was definitely a hit in our house. I loved it and Mike declared it to be the best meat I've ever cooked.
As with most slow cooker recipes, it was easy and convenient. I combined the spice mixture (a combination of salt, pepper, oregano, olive oil, and vinegar), rubbed it all over the pork (after trimming some of the fat off), and let the pork sit in the slow cooker pot in the refrigerator overnight. In the morning I added a little less than a cup of water (not sure if that was necessary, but the juice it created was great), turned the crockpot on low, and left for work.
When I came home it was done – so moist and tender it was falling apart. I even prepared some potatoes and set them in the oven to time back while I was at work, so we were sitting down to dinner 10 minutes after we got home – amazing. And it tasted awesome. I will definitely be making this again. Mike rated it a 4.5, and it doesn't get much better than that. We made pork sandwiches on ciabatta bread with some of the leftovers and dipped them in some of the leftover cooking liquid and they were amazing as well. I would definitely recommend this recipe.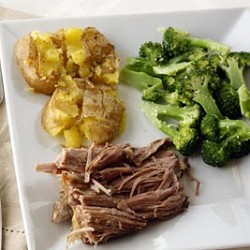 Slow Cooked Puerto Rican Pulled Pork
Ingredients:
4 pounds Pork Shoulder/Butt (*I used about a 2.8 lb shoulder roast - all I could find)
6 cloves Garlic, Pressed
¼ teaspoons Ground Black Pepper
1 teaspoon Oregano
1-½ Tablespoon Olive Oil
1-½ Tablespoon White Vinegar
4 teaspoons Salt
Directions:
Combine garlic, pepper, oregano, olive oil, vinegar and salt. Rub pork with garlic mixture and refrigerate overnight.When ready drop into the crockpot on low for 8 hrs. (*I also added a little less than 1 cup of water. I don't think it's necessary, but the juice it created was really good.)
*I am gone for 10 hours during the day, so I set the crockpot for 9 hours, and then it automatically switched from "low" to "warm" for the last hour. That seemed to work great.