Chocolate Chip Pudding Cookies
It's no secret that we love cookies in this house, and I'm always looking to try new cookie recipes. I saw these chocolate chip pudding cookies on Pinterest, and they looked so gooey and wonderful that I just had to make them. They are similar to my beloved bugs bunny bars (If you haven't tried those yet, you need to!), and they stay super soft for days. The vanilla pudding mix in the batter is the secret ingredient that really makes these cookies stand out – it gives them a great texture and a little added boost of flavor. You can never have too many chocolate chip cookie recipes, and this is a good one!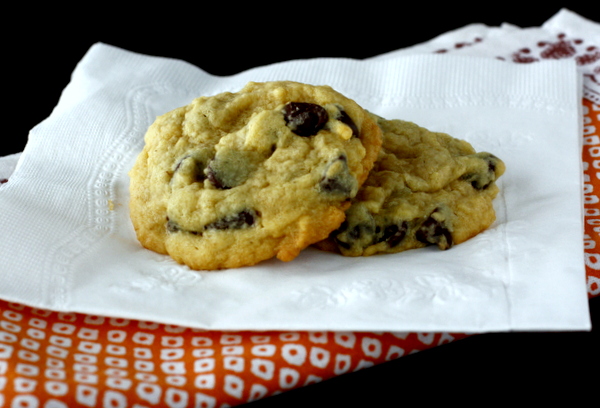 Chocolate Chip Pudding Cookies
Ingredients:
1 cup butter, softened
1/2 cup packed brown sugar
1/2 cup sugar
3.4 oz pkg instant vanilla pudding mix
2 eggs (at room temp)
1 tsp vanilla
2 1/4 cup flour
1 tsp baking soda
1/2 tsp salt
1/2 tsp baking powder
2 cups chocolate chips
Directions:
Preheat oven to 350 degrees. In a large bowl, cream together the butter and sugar. Beat in the eggs, one at a time, and the vanilla.
In a separate bowl mix together the flour, dry pudding mix, baking soda, baking powder, and salt. Slowly mix the dry ingredients into the wet ingredients. Fold in the chocolate chips.
Drop by the spoonful onto baking sheets 2 inches apart. Bake for 8-10 minutes.