Cranberry Pecan Sweet Rolls
If you're looking for Christmas breakfast ideas, you are going to love this recipe! We have a Christmas morning tradition that always involves cinnamon rolls, but this year I thought I'd try something a little bit different. These cranberry pecan sweet rolls are just perfect for Christmas! They have the traditional sweet roll dough, gooey filling, and yummy icing on top, but they are updated with Christmas flavors.  The filling includes cranberries, pecans, and orange zest, and the icing has a wonderful light orange flavor as well! The end result is a warm, gooey, and deliciously sweet breakfast roll that you won't be able to turn down. If you're looking to switch it up a little from traditional cinnamon rolls, try these cranberry pecan sweet rolls. You'll love them!
*Note: if you're looking for traditional cinnamon rolls, try this recipe – we love them!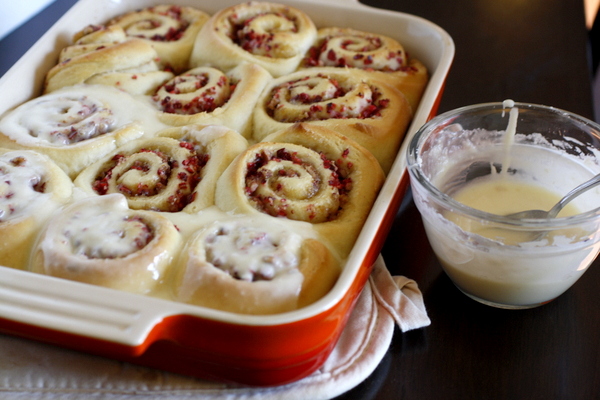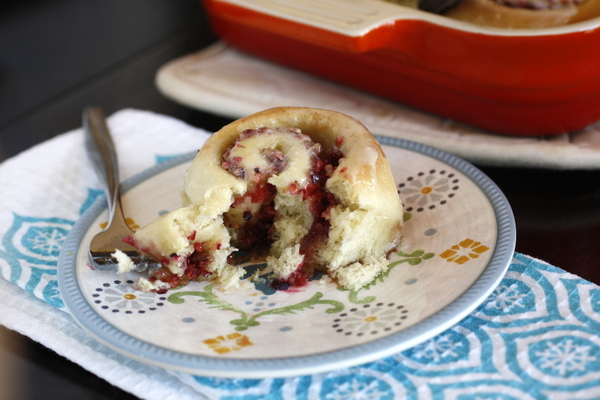 Cranberry Pecan Sweet Rolls
Ingredients:
Dough:
1/4 cup warm water
1/4 cup plus 1 1/2 tsp sugar
1 Tbsp yeast
1/4 cup melted butter
1 egg
1 tsp salt
3/4 cups warm milk
3 1/2 cups flour, plus more to reach a soft dough
Filling:
3 Tbsp softened butter
1 cup fresh cranberries
1/2 cup chopped pecans
1 cup brown sugar
1 tsp orange zest
Icing:
2 Tbsp butter
1/2 tsp vanilla
2 Tbsp orange juice
powdered sugar
Directions:
In a large mixing bowl, combine water, yeast and 1 1/2 tsp sugar. Let sit for 5 minutes, or until yeast is foamy. In a separate bowl, mix together the remaining 1/2 c. sugar, melted butter, eggs, and salt. Add to the yeast mixture, then stir in the warm milk. Add 3 cups flour, 1 cups at a time. Add in the last 1/2 up if necessary.
Knead dough on a well-floured surface, adding flour as necessary, until dough is soft and no longer sticky. Transfer dough to a lightly greased bowl and let rise until doubled in size, about 1 hour.
Prepare the filling: In a food processor, pulse the cranberries and pecans until they are in tiny pieces. Punch down risen dough and roll out into a large rectangle. Spread with softened butter and sprinkle with brown sugar, cranberries and pecans. Roll the dough up into a large log and cut into 1-inch rolls. Place rolls in a lightly greased 9x13 pan, lightly cover, and let rise until doubled in size, 30-45 minutes.
Bake at 350° for 25 minutes, or until lightly browned. Spread the icing on while the rolls are still warm.
For the icing:
Melt the butter in a medium sized bowl.
Add the vanilla and 1 Tbsp orange juice.
Stir in enough powdered sugar to make icing the consistency of honey.
Add more orange juice if you want a little more orange flavor, or if your icing ends up too thick.
This post was sponsored by the United Dairy Industry of Michigan, but as always, all opinions are my own. I personally love working for UDIM because Milk is a local food, produced by hardworking Michigan farm families. That means cheese, yogurt and other dairy foods are local too! Follow UDIM on Facebook, Pinterest, and Twitter to find out why Milk Means More.