Classic Cinnamon Rolls
I can't believe it's taken me this long to post a recipe for classic cinnamon rolls! Actually, this is the first time I've ever made cinnamon rolls, and I couldn't believe how good they were. This recipe is definitely a keeper! The rolls are soft and fluffy and full of delicious cinnamon sugar, and the icing on top is sweet and gooey. Needless to say, we absolutely loved these.
I originally was planning to try out some fancy make-ahead plan where you par-bake the rolls, freeze them, and finish them later in the oven. Unfortunately I managed to completely mess it up and we were left with undercooked and deflated rolls. Since I was planning to make them for our family Christmas celebration with Mike's family, I was motivated to try again, this time with a different make-ahead method. I'm so glad I did, because the second time they were perfect!  If you want to make these in advance, bake them all the way through and freeze them before you add the icing. Then when you're ready to serve them, just heat them in the oven, add the icing, and they'll be as good as new!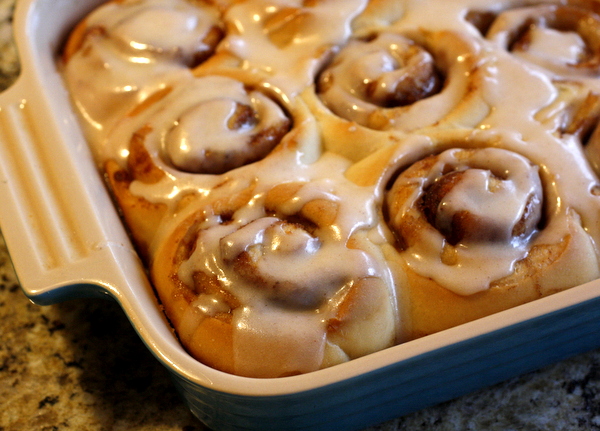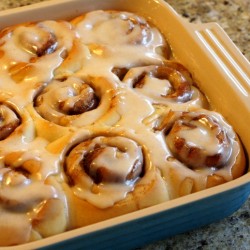 Classic Cinnamon Rolls
Ingredients:
1/2 cup warm water
1/2 cup plus 1 Tbsp sugar
2 Tbsp yeast
1/2 cup melted butter
2 eggs
2 tsp salt
1 1/2 cups warm milk
5 1/2 cups flour, plus more to reach a soft dough
Filling:
softened butter
brown sugar
granulated sugar
cinnamon
Icing:
2 Tbsp butter
1 tsp vanilla
2 Tbsp milk
cinnamon, to taste
powdered sugar
Directions:
In a large mixing bowl, combine water, yeast and 1 Tbsp sugar. Let sit for 5 minutes, or until yeast is puffy. In a separate bowl, mix together the remaining 1/2 c. sugar, melted butter, eggs, and salt. Add to the yeast mixture, then stir in the warm milk. Add 5 cups flour, 1-2 cups at a time.
Knead dough on a well-floured surface, adding flour as necessary, until dough is soft and no longer sticky. (I added quite a bit of extra flour to get it to that point). Transfer dough to a lightly greased bowl and let rise until doubled in size, about 1 hour.
Punch down risen dough and separate into two pieces. Roll out the first piece in a large rectangle. Spread with softened butter and sprinkle liberally with brown sugar, white sugar, and cinnamon. Roll the dough up into a large log and cut into 1-inch rolls. Repeat with remaining dough.
Place rolls in a lightly greased 9x13 pan, lightly cover, and let rise until doubled in size, 30-45 minutes.
Bake at 350° for 20-22 minutes., or until lightly browned. Spread the icing on while the rolls are still warm.
For the icing, melt the butter in a medium sized bowl. Add the vanilla, milk and cinnamon. Stir in enough powdered sugar to make icing the consistency of honey. (*I didn't actually measure any of these ingredients, you can use more or less than the amounts listed here)
*To Make Ahead: Bake the rolls as directed, but don't add the icing. Let cool completely, cover tightly and freeze. The night before you want to serve them, thaw them in the fridge. In the morning, let them come to room temperature while you're pre-heating the oven. Warm them in a 350 degree oven for 10-15 minutes, or until they are warmed through. I covered mine with aluminum foil to keep them from getting too brown on top. Ice them while they're still warm.