Christmas Magic Cookie Bars
These traditional magic cookie bars are all dressed up for Christmas with holiday M&M's!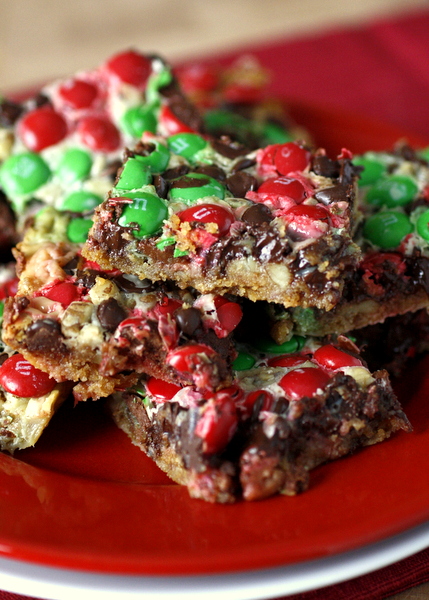 Don't these Christmas magic cookie bars look festive?? I just love the way they turned out! With their red and green holiday M&M's They are going to look so festive on a Christmas cookie tray . 🙂
This recipe is so incredibly simple. If you are familiar with traditional 7-layer magic cookie bars, then you already know how to make this recipe. I just took that classic recipe and dressed it up a little for Christmas. 🙂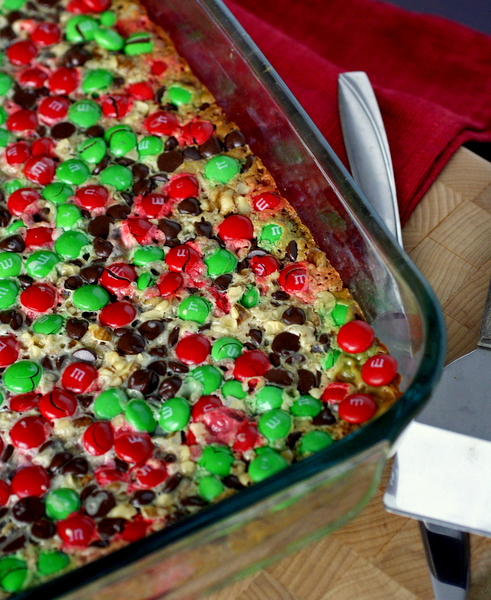 The beauty of this recipe is how quick and easy it is to make. It starts with a simple graham cracker crust, then you add a layer of sweetened condensed milk. After that all you have to do is sprinkle on all your yummy toppings and bake!
Not only is it easy, of course it is also delicious! The buttery graham cracker crust and the sweet chocolatey toppings are just perfect together! The end result is chewy and crunchy and sweet and way too easy to eat a lot of! 🙂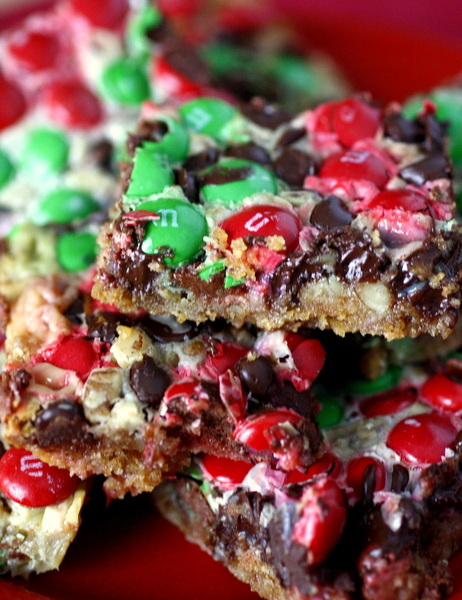 This recipe was fun to make because it was an easy one for Zeke to help with! He loved sprinkling all the toppings on! And of course he ate plenty of chocolate chips and M&M's while he was helping. 😉
I love the addition of holiday M&M's to this classic recipe. It gives the bars a little bit of extra crunch, and of course it makes them extra festive and pretty!
Looking for other treat ideas?  These Dulce de Leche Cookie Bars, Soft White Chocolate Gingerbread Cookies and No-Bake Ritz Cracker Cookies are excellent choices!
Christmas Magic Cookie Bars
Yield: Makes 20 cookies
Prep Time: 15 minutes
Cook Time: 25 minutes
Total Time: 40 minutes
These traditional magic cookie bars are all dressed up for Christmas with holiday M&M's!
Ingredients:
1 cup chopped walnuts
1 cup holiday M&M's
Directions:
Heat oven to 350 degrees F (325 degrees for glass dish). Lightly spray a 13x9-inch baking pan with non-stick cooking spray.

In a small bowl combine graham cracker crumbs and butter. Press into bottom of prepared pan.

Pour sweetened condensed milk evenly over crumb mixture.

Layer evenly with chocolate chips, coconut, walnuts, and M&M's. Press down firmly with a fork.

Bake 25 minutes or until lightly browned. Cool completely before cutting into bars.
adapted from EAGLE BRAND recipes