Dulce de Leche Cookie Bars
These dulce de leche cookie bars have a shortbread crust with a creamy dulce de leche filling and a chocolate pecan topping!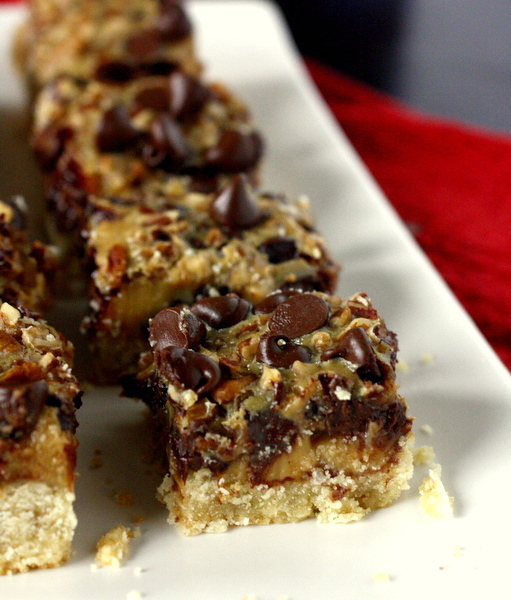 This is my first time baking with dulce de leche, and I can already tell you it won't be my last! I made a batch of homemade dulce de leche a few months ago (using this recipe – worked perfectly!) and then searched for all the different ways I could use it.
I stirred some into my coffee (yum!!), made dulce de  leche hot chocolate, and then used the rest to make these cookie bars. These cookies have a shortbread crust, a creamy dulce de leche filling, and a chocolate and pecan topping.
They are creamy and crunchy and sweet and completely delicious. Best of all they are a bar cookie, which means they are slightly less work than regular cookies. 🙂 If you don't want to make your own dulce de leche, you can buy it at your local grocery store either in the international foods section or the dessert topping section, or of course you can buy it on amazon. 🙂
Give these bars a try – you'll be glad you did!
These dulce de leche cookie bars are day 5 of this year's 12 Days of Christmas Treats! Every year a share a new cookie recipe every day for the first 12 days of December. You can see all these recipes from over the years under my Christmas Cookies tag. 🙂 See all of this year's cookies here: 12 Days of Christmas Treats 2015. Enjoy! And, as always, let me know if you try any and how you liked them.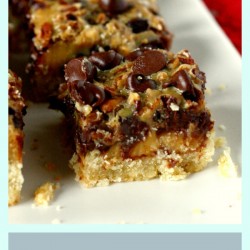 Dulce de Leche Cookie Bars
Yield: Makes 25 bars
Prep Time: 15 minutes
Cook Time: 45 minutes
Total Time: 1 hour
These dulce de leche cookie bars have a shortbread crust with a creamy dulce de leche filling and a chocolate pecan topping!
Ingredients:
2 cups plus 1 tablespoon all-purpose flour, divided
1 1/2 sticks (12 tablespoons) cold unsalted butter, diced
1/3 cup confectioners' sugar
1 tablespoon pure vanilla extract
1/2 teaspoon kosher salt
1 cup dulce de leche
1/4 cup heavy cream
2 large egg yolks
3/4 cup semisweet chocolate chips
3/4 cup pecans, chopped
Directions:
Preheat the oven to 350 degrees F. Line a 9-inch-square baking dish with foil, leaving a 2-inch overhang on two sides; coat the foil with cooking spray.
Pulse 2 cups flour, the butter, confectioners' sugar, 1 teaspoon vanilla and the salt in a food processor until the mixture starts clumping together, about 1 minute. Press firmly and evenly in the bottom and 1/4 inch up the sides of the prepared pan. Bake until firm and lightly browned, 25 to 30 minutes. Transfer to a rack and let cool 5 minutes.
Meanwhile, combine the dulce de leche, heavy cream, egg yolks and the remaining 1 tablespoon flour and 2 teaspoons vanilla in a medium bowl and whisk until smooth. Pour the mixture over the crust and sprinkle with the chocolate chips and pecans. Return to the oven and bake until set around the edge but slightly jiggly in the center, 20 to 25 minutes.
Transfer to the rack and let cool completely. Lift out of the pan using the overhanging foil. Remove the foil and cut into pieces.
from Food Network Magazine