Hamburger Soup
Hamburger Soup is not the best name for this. It tastes great, but when I mentioned it to Mike as a possible future dinner, his response was "Hamburger Soup?? Those two words go together about as well as tomato and pie." Right. After that I called it chili, and I don't think he ever put two and two together.
That being said, this soup (it really is more of a soup than a chili), is great. Please don't let the name hold you back from trying it. It's so easy to put together, and it cooks in the crockpot while you're at work. The ground meat breaks up and becomes part of the broth, and if you add a little cheese when serving, it makes it even better. Mike rated it a 3.25 (he prefers chili), but said he would gladly eat it again. I would definitely make it again just based on the number of meals it provided and the ease of cooking, let alone the fact that I really liked it.
P.S. This recipe for hamburger soup tastes great when paired with homemade bread such as French Sandwich Bread or Oatmeal Sandwich Bread!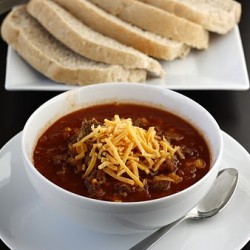 Hamburger Soup
Ingredients:
2 pounds Ground Beef
2 cans Large (48oz) V8 Vegetable Juice
1 large bag of shredded green cabbage
2 cups Frozen Corn
2 teaspoons Spices (I just sprinkled in some salt, pepper, garlic powder, and onion powder). The original recipe recommends red pepper flakes as well, but I didn't have any)
*You can also use Spicy V8 and leave out the other spices
Directions:
Brown the beef in a large skillet and drain off fat.
Place the cooked beef, V8, cabbage, corn and spices into your crockpot. Cook on low for 8 to 12 hours.
Serve with shredded cheese on top.