French Sandwich Bread
I've got a great recipe for you today!  This French sandwich bread is simple to make and it's my new go-to bread for all types of sandwiches. The recipe is actually an adaptation of an old French bread recipe I have on my blog. I make that recipe all the time and it's perfect in the Winter with soup. My friend Katie started telling me about how she adapted that recipe to make a great sandwich bread and I knew I had to try it. She wasn't kidding – this bread is so good! It's nice and soft, but still sturdy enough to be easily sliced. I love that it's almost half whole wheat, and the taste is perfect.  If you're looking for a good sandwich bread, try this one – it's been a hit around here.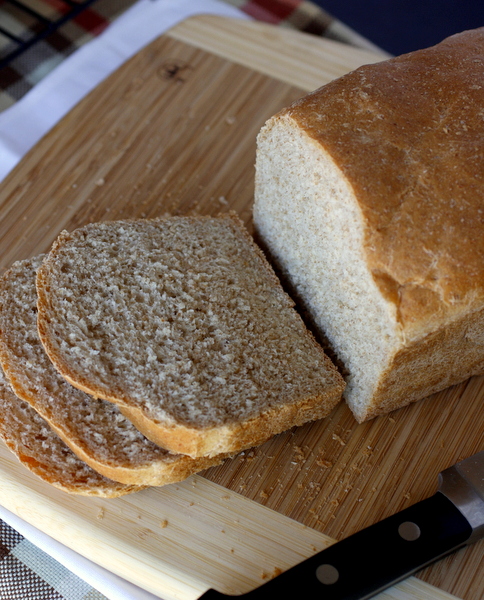 Considering soup options to pair this French sandwich bread with?  Try one of these classics – Baked Potato Soup and Broccoli Cheese Soup – or another one of our personal favorites, Creamy Chicken and Wild Rice Soup!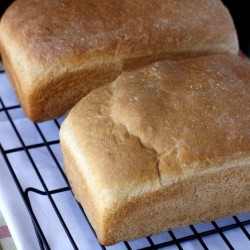 French Sandwich Bread
Ingredients:
2-¼ cups Warm Water
2 Tablespoons Sugar
4-½ teaspoons Yeast
1 Tablespoon Salt
2 Tablespoons Vegetable Oil
2 cups whole wheat flour
4 cups all-purpose flour
Directions:
In a large mixer, combine water and sugar and yeast. Allow it to soften/proof for about 5 minutes. Add salt, oil, and the flour. Using the dough hook on your mixer, knead the dough until it is smooth and elastic, about 5 minutes. Lightly spray a large bowl with cooking spray and place the dough in the bowl. Cover the bowl with lightly greased plastic wrap and let the dough rise until it has doubled, about 1 hour.
Grease 2 loaf pans with shortening or cooking spray. Gently push fist into dough to deflate; divide in half. Shape dough into loaves; place in pans. Cover; let rise in warm place 30 to 45 minutes or until doubled in size. Bake at 400 degrees for 25-30 min, checking at about 20 minutes. Bread should be golden brown and sound hollow when tapped.