Soft and Chewy Chocolate M&M Cookies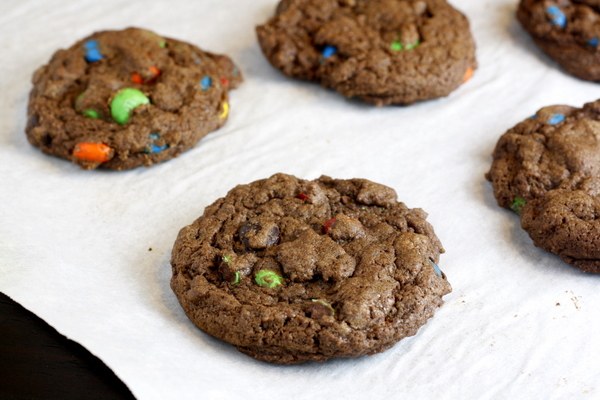 I love cookies. If you search the cookie tag of this blog you'll see irrefutable evidence of this fact. I'd choose a thick and chewy cookie (these are my current favorite!) over almost any other kind of dessert. The one exception would be anything with a substantial amount of icing. What can I say, I like sugar. 🙂
These chocolate cookies are everything a chocolate cookie should be – soft, chewy and almost fudge-like in the middle. (Be careful not to overbake them or you will lose their fudge-like quality!) Add in some colorful M&M's scattered throughout the cookie and you've got a fun tasty cookie that's sure to be a hit with adults and kids alike. I've made this recipe with chocolate chips lots of times and everyone seems to love them, but I think I like the M&M version better – more colorful.
Make these for Father's Day – your dad is sure to love them. Unless he is my dad. Then he only likes chocolate chip cookies. But not these, or these, or these. He wants Tollhouse chocolate chip cookies. Every. Single. Time. Regardless, make these soft and chewy M&M cookies – they're good. 🙂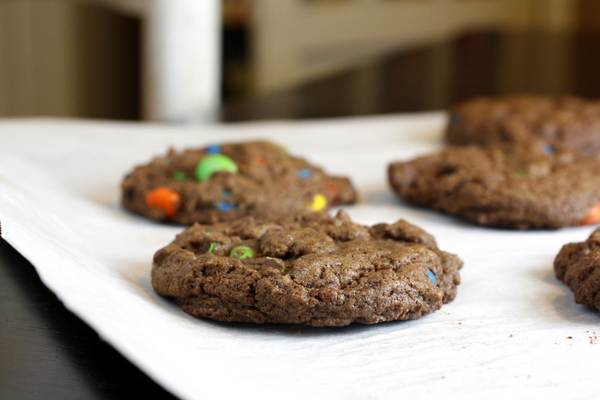 Soft and Chewy Chocolate M&M Cookies
Ingredients:
1 cup unsalted butter
1 1/2 cups sugar
2 eggs
2 tsp. vanilla
2 cups flour
2/3 cup unsweetened cocoa powder
3/4 tsp. baking soda
1/4 tsp. salt
2 cups M&M's
Directions:
Cream together butter, sugar, eggs and vanilla. Stir in flour, cocoa, soda and salt. Stir in M&M's. Drop by rounded Tablespoonfuls onto ungreased cookie sheet. Bake at 350 for 8 to 10 minutes or until edges are set, but centers are still puffy. Let cool on baking sheet for 2-3 minutes, then remove to a cooling rack to finish cooling.