Strawberry Pizza
You are going to love this strawberry pizza!  Strawberry season is one of my favorite seasons, and Zeke and I have a tradition of going strawberry picking every year. I make most of the strawberries into freezer jam, but we always leave plenty of strawberries for eating, and of course a few for baking. 🙂
My birthday was last week and I made myself this strawberry pizza as a birthday treat. I can't be the only one that makes their own birthday treats, right? Mike made me a cake the first year we were married, but ever since then I've taken the opportunity to try something new and enjoy the baking experience.
Well this year Mike was out of town so it was just me and Zeke and Scamp at home. And so to cheer myself up, I made this strawberry pizza.  I love traditional fruit pizza, but this all-strawberry version was just as good, if not better!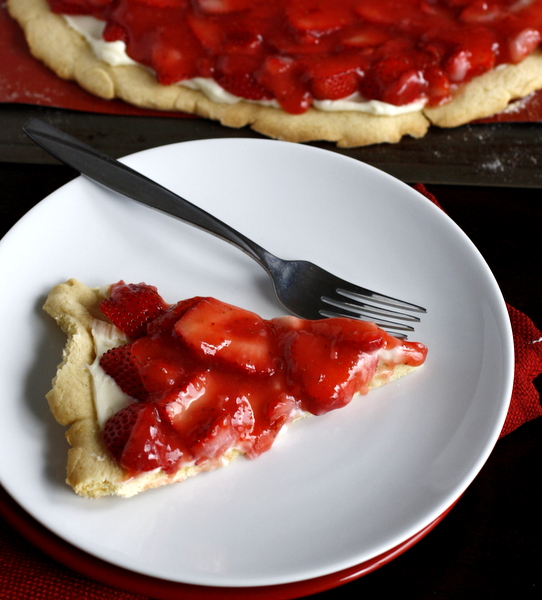 If you're not familiar with fruit pizza, it consists of a sugar cookie crust, a creamy cream cheese middle layer, and a fruit topping. It is one of my favorite desserts! It tastes so good, and you don't even need to feel guilty eating it because there is so much fruit on top. 😉
This version also has a strawberry glaze on top, which was a great addition. The end result was so pretty! Everyone I shared it with (yes, I shared my birthday treat! :)) loved it, and I'm already planning to make it again once I get a chance to go strawberry picking again.  Everything tastes better with fresh local strawberries! 🙂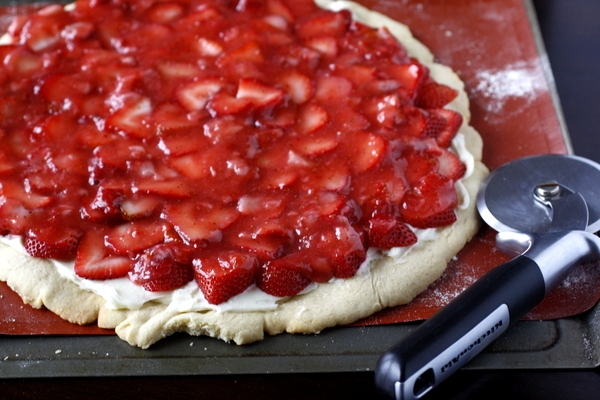 Strawberry Pizza
Ingredients:
Crust:
6 tablespoons butter, softened
1/2 cup sugar
1 egg
1/2 teaspoon vanilla extract
1-1/4 cups all-purpose flour
1/2 teaspoon baking powder
1/2 teaspoon salt
Filing:
1 package (8 ounces) cream cheese, softened
1/2 cup confectioners' sugar
1/2 teaspoon vanilla extract
2 cups sliced fresh strawberries
1 cup sugar
1/4 cup cornstarch
2 cups crushed strawberries
Directions:
Make the crust:
In a large bowl, cream butter and sugar until light and fluffy. Beat in egg and vanilla.
In a separate bowl, whisk together the flour, baking powder and salt and gradually add to creamed mixture. Cover and refrigerate for 1 hour.
On a floured surface, roll dough into a 13-in. circle. Transfer to an ungreased 12-in. pizza pan and build up the edges slightly.
Bake at 350° for 18-22 minutes or until lightly browned. Let cool completely.
Make the filling:
In a large bowl, beat cream cheese, confectioners' sugar and vanilla until smooth. Spread over crust. Arrange sliced strawberries on top.
In a large saucepan, combine the sugar, cornstarch and crushed berries until blended. Bring to a boil; cook and stir for 2 minutes or until thickened. Cool slightly then spoon over the sliced strawberries.
Refrigerate until ready to serve.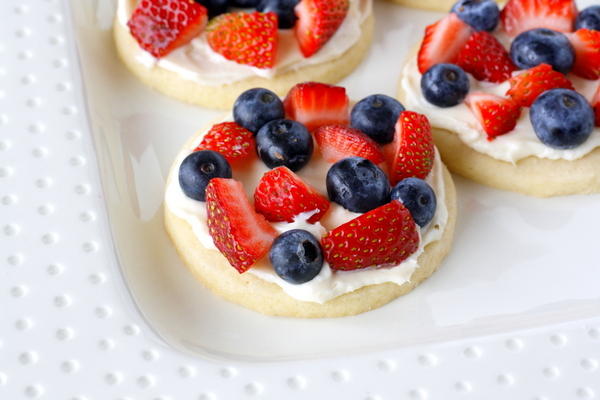 Looking for more? Try these mini fruit pizzas!