Cheesy Tomato Bread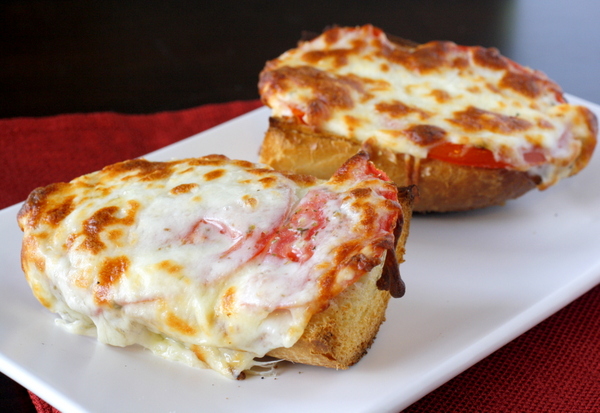 I hope that you can see by the pictures just how good this bread is. When you combine a fresh loaf of french bread, ripe summer tomatoes, and melted mozzarella cheese, it is pretty much a recipe for perfection! Just look at that gooey cheese!
I've been eating this for lunch over the past few days and I can't get enough of it! Best of all, it is so quick and simple to make. It's like those frozen french bread pizzas you can buy at the grocery store, but with fresh ingredients and a better flavor.
This cheesy tomato bread is perfect for lunch or as part of a light dinner. It's definitely a crowd pleaser! It doesn't get much better than ripe and juicy summer tomatoes, and I'm pretty sure this is one of the best ways to enjoy them. 🙂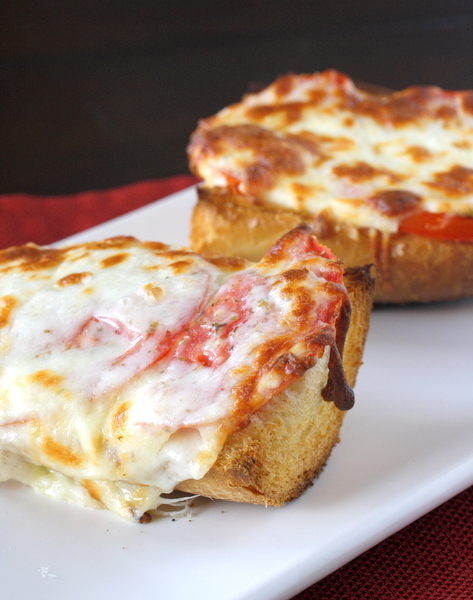 Looking for more great pizza ideas?  Check out some of my favorites!
Cheesy Tomato Bread
Ingredients:
1 loaf french bread, sliced lengthwise
3 Tbsp butter
1/2 - 1 Tbsp garlic powder (to taste)
3-4 fresh tomatoes, thinly sliced
1 tsp kosher salt (use 1/2 tsp if using salted butter)
2 Tbsp olive oil
2 tsp oregano
8 oz sliced or shredded mozzarella cheese
Directions:
*Ingredient amounts are approximations. This is a great recipe to experiment with and adjust to your tastes
Preheat oven to 500. Spread each slice of bread evenly with butter and sprinkle with garlic. Lay the tomato slices on top, then sprinkle with salt, olive oil and oregano. *Note: If using juicy garden tomatoes, you may want to let the slices sit on a paper towel for a minute before laying them on the bread.
Top with cheese and place on a foil lined baking sheet. Bake for 5-7 minutes, or until the cheese melts and the bread begins to toast. Turn the oven to broil and and leave them in the oven for 2-3 minutes longer, or until the cheese browns. Slice the bread into 4-inch sections and serve.
from the Penzey's Spice Catalog