Blueberry Crumble Bars
You are going to love these blueberry crumble bars! For some reason the combination of blueberry and lemon just screams "summer!" to me, and these bars are no exception. These bars are completely delicious, and surprisingly very easy to make. The crust (and topping) is kind of like a combination of shortbread and pie crust, just slightly sweet, and perfectly crumbly. The filling is basically just blueberries, sweetened up with a bit of sugar, and of course some lemon juice to make them just a little bit tangy. The bars just sort of crumble in your mouth, hence the name "blueberry crumble bars." I  used frozen blueberries with great results, but I'm already planning to make them again as soon as I get a chance to go blueberry picking. I hope you get a chance to try these before blueberry season is over – you will love them!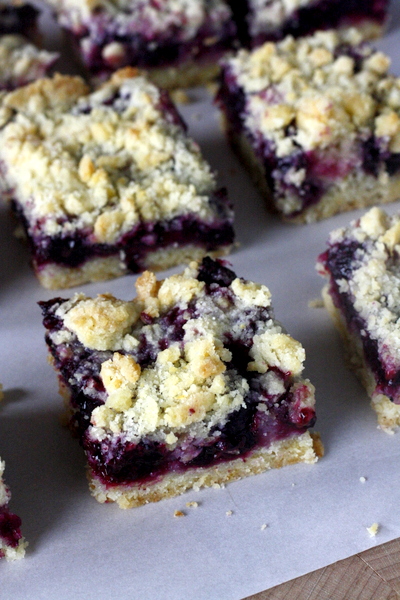 Blueberry Crumble Bars
Ingredients:
For the crust:
1 cup granulated sugar
3 cups all-purpose flour
1 tsp baking powder
1/4 tsp salt
zest of 1 lemon
1 cup (2 sticks) cold unsalted butter, cut into small pieces
1 egg
For the filling:
4 cups fresh blueberries
1/2 cup granulated sugar
4 tsp cornstarch
juice of 1 lemon
Directions:
Preheat the oven to 375 degrees F. Grease a 9×13 inch pan and set aside.
Make the crust: In a medium bowl, stir together the sugar, flour, baking powder, salt and lemon zest. Use a fork or pastry cutter to blend in the butter and egg. Dough will be crumbly. Pat half of dough into the prepared pan.
Make the filling: In another bowl, gently stir together the blueberries, sugar, cornstarch and lemon juice. Sprinkle the blueberry mixture evenly over the crust.
Crumble remaining dough over the berry layer. Bake in preheated oven for 45-50 minutes, or until top is lightly browned. Cool completely before cutting into squares. Store in the refrigerator.