Strawberry Cake
This cake is delicious.  I wasn't totally sure about the idea of a strawberry cake, but I'm definitely glad I tried it!  It's pretty and pink and it tastes wonderful.  Now I have to admit that this recipe does start with a box of white cake mix. If you're the type of person that frowns upon that, just ignore this recipe. I generally try to cook and bake from scratch, but honestly, sometimes box cake mixes just taste really good. Especially when you add some extra ingredients that turn them pink!
Seriously, this cake was great. It had a wonderful strawberry flavor, it was nice and moist, and the strawberry icing was the perfect sugary complement. Mike loved it and rated it a 4. This is a great cake for spring, and a lot of fun if you're looking for something a little different.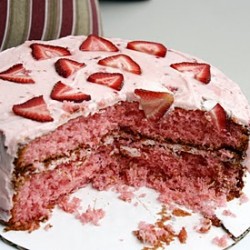 Strawberry Cake
Ingredients:
Cake:
1 package plain white cake mix
1 package (3 ounces) strawberry jello
4 Tbsp flour
1 cup vegetable oil
1/2 cup granulated sugar
1/2 cup whole milk
4 large eggs
1/2 cup finely chopped fresh strawberries and juice
Frosting:
1 stick butter, at room temperature
4 cup powdered sugar, sifted
1/2 cup finely chopped fresh strawberries and juice
Directions:
*The directions are written for a 3 layer cake, but because I only have 2 cake pans, I made a 2 layer cake and used the extra batter for cupcakes. The directions also say to only frost the tops of the layers, so the cake looks more like a torte. Since I only did 2 layers, I had enough icing to frost the whole thing. I love icing, so I think it tasted great. But that's why my pictures look different than the instructions describe.
Preheat the oven to 350. Lightly grease three 9-inch round cake pans with shortening, then dust with flour.
Place the cake mix, jello, flour, oil, sugar, milk, eggs, and strawberries in a large mixing bowl and blend with an electric mixer on low speed for 1 minute. Scrape the sides of the bowl, increase the mixer speed to medium and beat for 2 more minutes. The strawberries should be well blended into the batter. Divide the batter among the prepared pans and place them in the oven.
Bake the cakes until they spring back when lightly pressed with your finger and just start to pull away from the sides of the pan, 33-35 minutes. Place the pans on wire racks to cool for 10 minutes. Invert each cake onto a rack, then invert again onto another rack so that the cakes are right side up. Allow to cool completely, 30 minutes more.
Meanwhile, prepare the frosting. Place the softened butter in a large mixing bowl and blend with an electric mixer on low speed until fluffy, 20 seconds. Add the powdered sugar and strawberries. Blend on low speed until the frosting is creamy and of a spreadable consistency. If it's too thin, add more sugar. If it's too thick, add more strawberries.
To assemble, place one cake layer, right side up, on a serving platter. Spread the top with frosting. Add another layer, right side up, and frost the top. Repeat with the third layer and frost the top; the cake should resemble a torte with the sides left unfrosted. Decorate the top with sliced strawberries. Serve at once or chill the cake for later serving.
Store leftovers in the refrigerator.
from the Cake Mix Doctor Cookbook