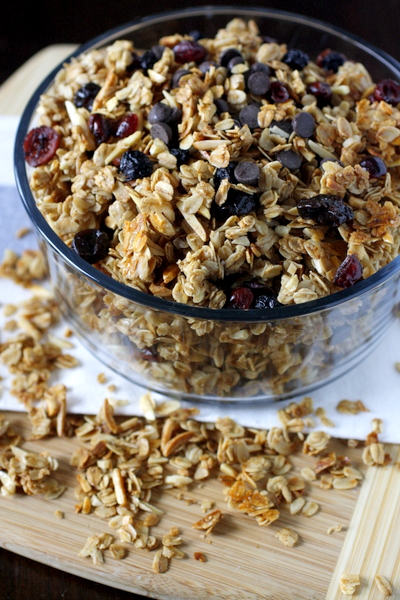 It's been awhile since I posted a homemade granola recipe, and I have no idea why it took me so long! I love to make granola at home. I love mixing and matching the ingredients, playing around with different oils and sweeteners, and of course adding lots of different add-ins!
This coconut oil trail mix granola is definitely a new favorite. It breaks up into nice big chunks, and it is chewy and crunchy all at the same time. Plus it uses nice healthy ingredients, so you feel good about eating it!
The granola starts with rolled oats and coconut oil as the base. The original recipe called for honey as the sweetener, but I didn't have enough, so I did about 2/3 honey and 1/3 maple syrup. It was so good that now I can't imagine making it any other way.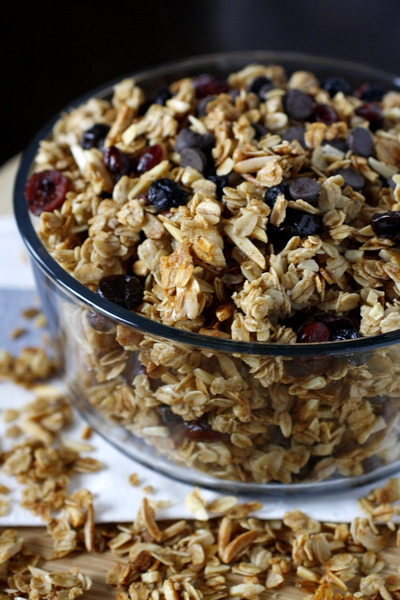 After you bake the granola, you let it cool for an hour or so. This is key to getting those nice big chewy clumps of granola. Then it's time to add in your mix-ins. I wanted to do sunflower seeds and pumpkin seeds so that Levi could eat it (he has a peanut allergy), but I couldn't find any on a recent trip to the store.
Instead I stuck with the basics – slivered almonds, lots of dried fruit, and a handful of dark chocolate chips. Yum!! Feel free to play around with the mix-ins – there are so many options available!
This granola is delicious when eaten by the handful, as cereal, mixed into yogurt, on top of ice cream, etc. I think you get the idea.

You are going to love it!