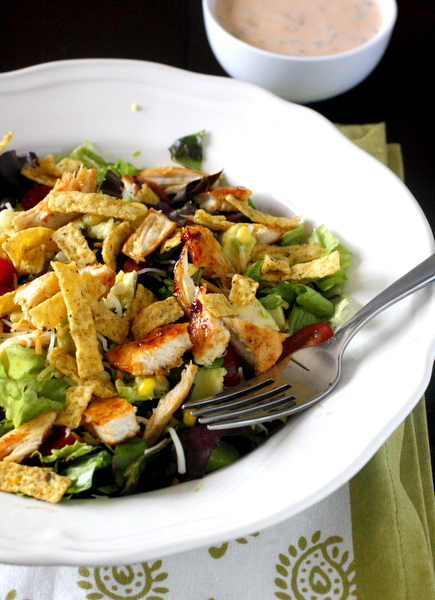 I am currently obsessed with chopped salads. I just love that everything is bite sized and you get a little taste of all the toppings in every bite. When the nice people at the United Dairy Industry of Michigan asked me to create a chopped chicken taco salad I immediately said yes.  I could just picture the fresh sweet corn, creamy avocado, cilantro dressing,  etc. And thankfully the end result turned out to be just as good as I was imagining.

We LOVED this salad. I started with fresh green leaf lettuce and covered it with all sorts of toppings. You can mix and match whatever toppings you wanted, but I used black beans, corn, avocado, tomatoes, shredded Mexican cheese, tortilla strips, and of course chicken. I seasoned the chicken with taco seasoning before I cooked it, and it was absolutely delicious. It had a very mild Mexican flavor that paired perfectly with the salad. Zeke agreed and gobbled up piece after piece as I was building the salad.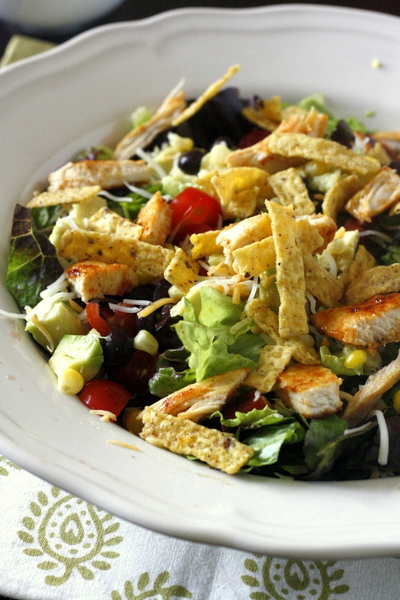 The best part, though, is the cilantro lime dressing! It's made with plenty of lime juice and cilantro, plus a little added taco seasoning to give it an extra kick. It was so good that I was dipping anything and everything into it – carrot sticks, peppers, tortilla chips, etc.

And I love that it's made with Greek yogurt and buttermilk so that it's actually fairly healthy and full of protein!
All in all this salad was completely delicious. You should know by now that I love recipes that are flexible and can be adjusted according to personal preference, and this is definitely one of those recipes. I have no doubt that you will love it too!