Frosted Cranberry Cookies made with fresh cranberries and a creamy brown butter frosting!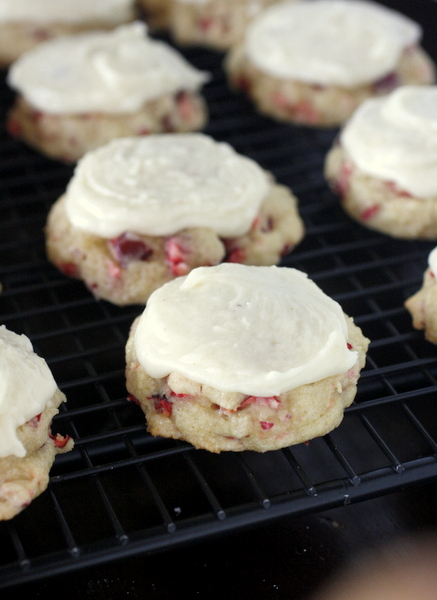 These frosted cranberry cookies are perfect for Christmas! This time of year I love cookies and other sorts of treats that make use of seasonal fresh cranberries. And you can never go wrong with a cookie with a big mound of frosting on top.

These cookies are so good! The cookie part is good even without the frosting. It has just the right amount of sweetness to balance out the fresh cranberries, and the cranberries give the cookie a little bit of crunch. The cookies have a great texture and flavor, and you could even add in some chopped walnuts if you want more of a nutty flavor.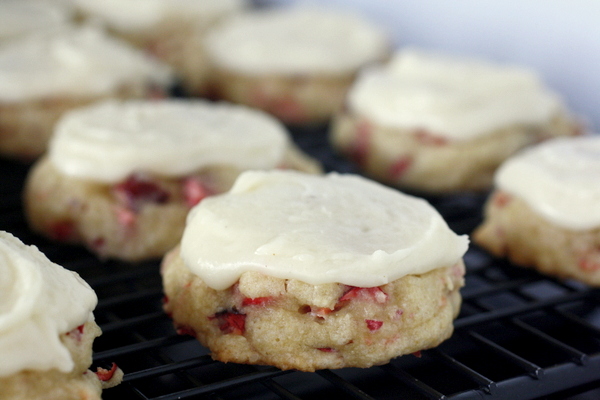 As I mentioned, you could eat the cookies without the frosting, but they are even better with the frosting! It is a brown butter frosting which has tons of flavor, and it complements the tart cookies perfectly. I may have eaten a spoonful right out of the bowl before I frosted the cookies.

The icing is smooth and creamy when you make it, but work quickly because it hardens up a little as it cools. If that happens, just add a tiny bit of extra hot water and re-mix the frosting and you should be good to go.
Thanks to the fresh cranberries, these cookies look nice and festive on a cookie platter. And they taste even better than they look. They are sure to be a hit this Christmas season – I hope you try them!