Pumpkin Spice Baked Oatmeal is a delicious fall breakfast full of healthy oatmeal and pumpkin spice flavor!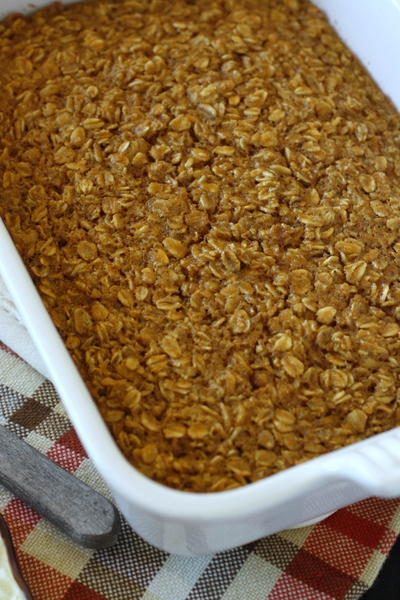 Are you tired of pumpkin spice yet? I hope not, because you've got to try this pumpkin spice baked oatmeal! We love baked oatmeal in our house. It's a hot breakfast that is easy to make and that everyone will eat without complaint.

Plus I love that you can make it ahead of time and then get other stuff done while breakfast is baking in the oven.
This baked oatmeal is full of fall flavor and has a great cake-like texture. You can definitely taste the pumpkin, but it isn't overpowering. It isn't overly sweet, which makes it perfect for breakfast. We like to eat it crumbled up with milk, but I've heard it's good with whipped cream on top as well. 😉
I love having a hot breakfast as the mornings get cooler, and this is a great fall breakfast option. And it's very kid-friendly!