Cheesy Chicken and Rice Casserole
On Friday I saw the first snow of the season. To be honest, it was a little depressing because I know the cold weather is here to stay. Then I remembered that cold weather means hot chocolate, comfort food, and hot satisfying meals. That helped cheer me up. 🙂 This is one of those warm comforting meals that is perfect for dinner on a cold evening.  It's chock full of vegetables, to keep it healthy, but the cheesy sauce makes it seem like it couldn't possibly be good for you.
I saw this meal on Made in Melissa's Kitchen, and it looked so good I immediately added it to my menu for the following week.  I made quite a few changes based on our personal preferences and what we had on hand, and I'm sure there are countless ways you could adapt this dish. I already had some leftover cooked chicken and some rice in the freezer, which made this a 30 minute meal.  Mike took one bite and said "This is my kind of food."  You can't beat a meal like this on a busy weeknight!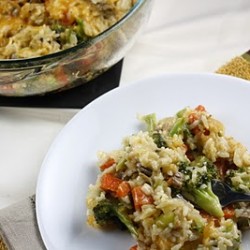 Cheesy Chicken and Rice Casserole
Ingredients:
1.5 Tablespoons extra virgin olive oil
1 medium onion, finely diced
1 stalks celery, finely diced
2 carrots, peeled and diced
1 Tablespoons fresh minced garlic
1 cup broccoli florets
1 Cups shredded, cooked chicken breast
2 Cups steamed white rice
1/2 teaspoon kosher salt
1/4 teaspoon black pepper
1/8 teaspoon garlic powder
Cheese Sauce:
2 Tablespoons butter
1/8 Cup all purpose flour
1/8 teaspoon kosher salt
1/8 teaspoon black pepper
1 Cups chicken broth
2 Cups shredded cheddar cheese, divided
Directions:
Preheat oven to 350 degrees. Heat oil into a medium pot over medium heat. Saute onion, celery, carrots and broccoli until softened, about 10 minutes. Stir in garlic and cook for 1 minute. Stir in chicken, rice, salt, pepper and garlic powder. Reduce heat to low.
To prepare cheese sauce melt butter into a medium saucepan over medium high heat. Whisk in flour, salt and pepper then slowly pour in chicken broth whisking continuously. Whisk until thick and nearly boiling then stir in 1 cup cheese until melted.
Pour cheese sauce into rice mixture then transfer to a 2 qt casserole dish or 8x8 inch baking dish. Top with additional cheddar cheese and bake for 20-25 minutes or until cheese is melted through. Serve hot.