Buckeye Brownie Cookies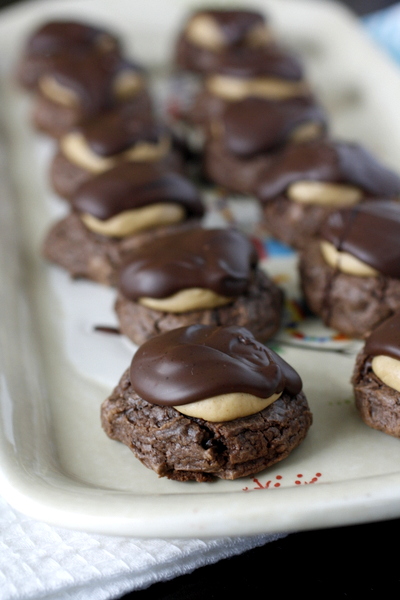 Welcome to this year's 12 Days of Christmas Treats! Over the next 12 days I will be sharing 12 different Christmas treats with you – a new one each day. 🙂
I have an AMAZING cookie to share with you to start out this year's festivities. Let me introduce you to Buckeye Brownie Cookies! If you like buckeyes (or peanut butter balls, as we call them), there is no doubt you will love these cookies. If you like the combination of chocolate and peanut butter (who doesn't??), then these are for you!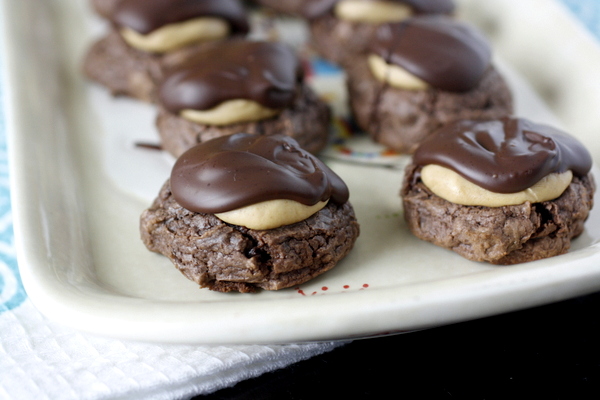 The cookie base is made out of brownie mix, and there is a little peanut butter ball stuck on top of each one. Top that with melted chocolate and you've got these delicious, over-the-top buckeye brownie cookies.
These cookies are like chocolate and peanut butter heaven. 🙂 They are absolutely delicious, and they look pretty impressive on a cookie tray!
As an added benefit, they actually take less time than traditional peanut butter balls to make because you don't have to individually dip every single one into chocolate. This is definitely a must-try recipe – I hope you enjoy it!
*See all 12 days of Christmas Treats from 2014 here! 🙂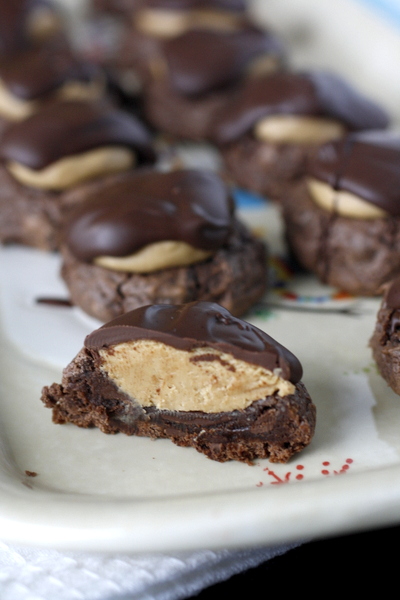 *Check out the delicious treats from previous years!  Molasses Kringles, Lofthouse Soft Frosted Sugar Cookies, Peanut Butter Shortbread with Salted Chocolate, Peanut Butter Cup Cookies
P.S. You can see all of my Christmas treat recipes from over the years at this Christmas Cookies tag. Enjoy! And, as always, let me know if you try any and how you liked them.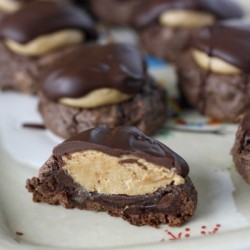 Buckeye Brownie Cookies
Ingredients:
1 box fudge brownie mix (mine was 18.9 ounces)
1/4 cup butter, melted
4 oz cream cheese, softened
1 egg
1 cup powdered sugar
1 cup creamy peanut butter
6 oz dark chocolate chips, melted
Directions:
Heat oven to 350 degrees. Line two cookie sheets with parchment paper and set aside.
In a large bowl, beat the brownie mix, butter, cream cheese, and egg. The dough will be a little sticky. Scoop the dough onto prepared cookie sheets, making about 30 cookies. (I used my small cookie scoop, which worked great). Smooth the edges of each to form a round cookie.
In a small bowl, beat together the powdered sugar and the peanut butter until smooth. Form the mixture into about 1 inch balls, one for each cookie. Set aside.
Bake the cookie dough 11-13 minutes, or until edges are firm. It's OK if the cookies are a little gooey, but you also need to make sure the bottoms are firm enough to hold all the toppings. Immediately press a peanut butter ball lightly into the center of each cookie. Let the cookies cool for 5 minutes, then transfer them to a wire rack to cool completely.
Melt the dark chocolate chips in a microwavable bowl at 50% power, stirring every 30 seconds, until melted. Spoon melted chocolate on top of each cookie. Let chocolate set before storing in an airtight container.