Molasses Kringles
Day 1 of the 12 Days of Christmas Treats
I am so excited for this Christmas series. 12 days of delicious and decadent Christmas treats, starting today! You may think I'm crazy, but I started planning these posts last December!  That is either a testament to how much I look forward to Christmas baking, or to how much of a crazy list maker I am. I think it's the baking 🙂
The first recipe I'm sharing with you, however, I just found a few weeks ago! It comes from Mommie Cooks, written by Julie, my new friend I met at Food Blog Forum in Atlanta. This recipe was her grandmother's, and since old family recipes appeal to me (and her pictures made these cookies look incredible), I knew I had to make them.
These are a great classic Christmas cookie. They have a wonderful molasses/ginger flavor and a perfectly soft and chewy texture. The glaze on top is a great flavor contrast and makes the cookies a little more special.
Mike really liked these, and he normally isn't a fan of molasses cookies. Although I think he'll eat anything if I put a powdered sugar glaze on it.
If you're looking for a soft and chewy molasses cookie for the holidays, give these a try. You won't be sorry. 🙂
P.S. You can see all of my Christmas treat recipes from over the years at this Christmas Cookies tag. Enjoy! And, as always, let me know if you try any and how you liked them.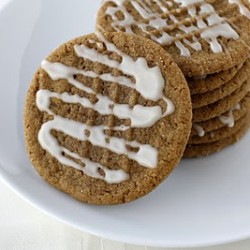 Molasses Kringles
Ingredients:
Cookies:
3/4 Cup of Shortening (I used half shortening, half butter)
1 Cup of Brown Sugar
1 Egg
1/4 Cup of Molasses
21/4 Cups of Flour
2 tsp Baking Soda
1/8 tsp Salt
1 tsp of Cinnamon
1 tsp of Ginger
1/2 tsp of Cloves
Sugar for Dipping
Glaze
1/2 Cup of Powdered Sugar
1 tsp of Vanilla
Milk
Directions:
Preheat oven to 350. Cream together shortening, butter and brown sugar. Add molasses, egg, flour, baking soda, salt, and spices and mix well.
Add about 1/4 cup of white sugar to a small bowl. Take a heaping teaspoon of dough and roll it into a ball. Roll your ball in the sugar, set it on your cookie sheet and press down on it with with a fork. Repeat for the rest of the dough.
Bake for 9 to 11 minutes, or until cookies are just set. Cool for 5 minutes on cookie sheet, then transfer to a cooling rack to cool completely.
To make the glaze, whisk together the powdered sugar, and vanilla. Add milk until the glaze is about the consistency of honey, or a little thinner. Drizzle the glaze over each cookie and allow it to harden.
Click  here to see all of the 12 Days of Christmas Treats
If you like what you see, you may want to sign up to get free email updates or subscribe via rss. 🙂