Peanut Butter Shortbread with Salted Chocolate
It's officially time for the 12 Days of Christmas Treats! I'm so excited to share all of these wonderful recipes with you, and let's be honest, you can never have too many recipes for Christmas cookies!
I've been wanting to make these peanut butter shortbread cookies with salted chocolate since last Christmas and I'm so glad I finally got around to it. Peanut butter shortbread would be pretty good on its own, but then you dip the cookies in melted chocolate and sprinkle them with sea salt. The end result is amazing.
The shortbread just melts in your mouth, and the balance of sweet and salty is absolutely perfect. I can't say enough good things about these cookies – you'll just have to try them for yourself and let me know what you think. 🙂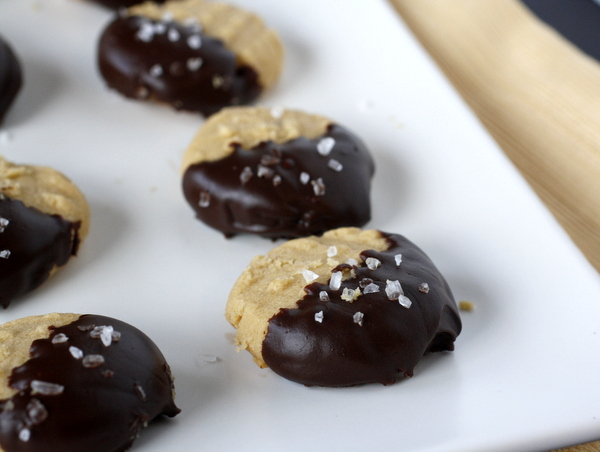 P.S. You can see all of my Christmas treat recipes from over the years at this Christmas Cookies tag. Enjoy! And, as always, let me know if you try any and how you liked them.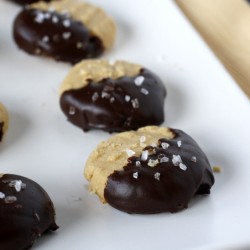 Peanut Butter Shortbread with Salted Chocolate
Ingredients:
3/4 cup unsalted butter, softened
1/2 cup creamy peanut butter
1/2 cup brown sugar, packed
1/4 teaspoon vanilla extract
2 1/4 cups unbleached all-purpose flour
1/4 teaspoon salt
Topping:
4 ounces good quality chocolate- milk, semi-sweet, or bittersweet
2-4 tablespoons unsalted butter, plus additional butter (or shortening) if needed to thin chocolate
Fleur de Sel, for sprinkling
Directions:
Beat together the butter and peanut butter with mixer at medium speed until smooth. Gradually add sugar, beating well. Stir in the vanilla. Add the flour and salt, beating at low speed until blended.
Form the dough into balls (mine were about 10g each), place them on a cookie sheet & press the tops with a fork. Refrigerate until cold, 15-30 minutes.
Preheat the oven to 275˚F. Bake until the bottoms of the cookies are golden, 30 to 35 minutes. Let cool completely.
When the cookies have cooled, melt the chocolate in a bowl over simmering water, making sure the bowl does not touch the water. Add butter until the chocolate is a good consistency for dipping. (I used about 2 Tbsp, then thinned the chocolate out with shortening). Dip half of each cookie into the melted chocolate and place on a parchment-lined sheet. Sprinkle chocolate immediately with a few grains of Fleur de Sel.