Lofthouse Style Soft Frosted Sugar Cookies
These homemade Lofthouse sugar cookies are soft and fluffy with a thick and creamy icing on top!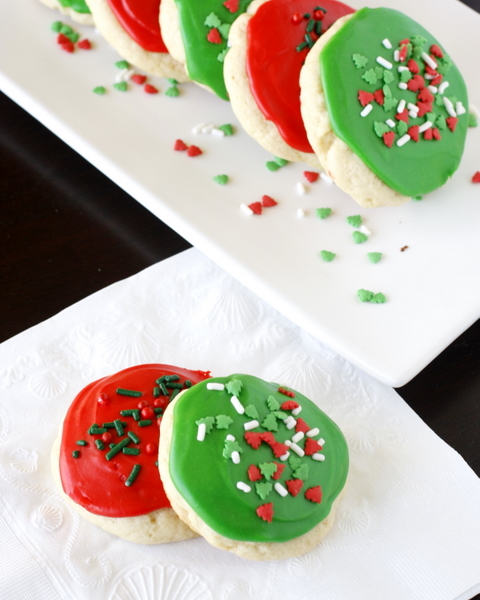 I knew I had to have a great recipe to kick off the 12 Days of Christmas Treats 2011, so I'm starting with one of my absolute favorites!
Are you familiar with those soft Lofthouse sugar cookies that pop up in grocery stores around all the holidays? The kind with colored icing and sprinkles? If you are a fan of those, you are going to LOVE this homemade version!
I used to (and still do!) love the Lofthouse cookies. I remember having them as snacks at our tennis matches in college and how I always grabbed a cookie after I was done playing, even if we were headed straight to dinner. 🙂
I've been looking for a homemade version for awhile now and I'm so happy to tell you I finally found it! These sugar cookies are so close to the grocery store staples that I almost couldn't believe it. From the soft and fluffy cookie to the thick and creamy icing…these cookies are good!
I love making them for Christmas but they're perfect for any holiday – just change the color of the icing and adjust the sprinkles. I won't tell you how much money I spent on Christmas sprinkles this year, but looking at these happy festive cookies, I think it was worth it. 🙂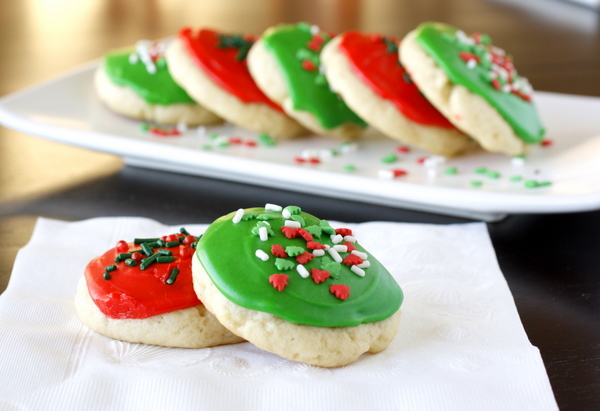 P.S. You can see all of my Christmas treat recipes from over the years at this Christmas Cookies tag. Enjoy! And, as always, let me know if you try any and how you liked them.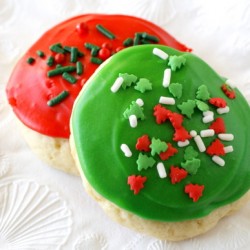 Lofthouse Style Soft Frosted Sugar Cookies
Yield: 2-3 dozen large cookies
These homemade Lofthouse sugar cookies are soft and fluffy with a thick and creamy icing on top!
Ingredients:
Cookies:
4½ cups all-purpose flour
4½ tsp. baking powder
¾ tsp. salt
1½ cups (3 sticks) butter, at room temperature
1½ cups sugar
3 large eggs
5 tsp. vanilla extract
Frosting:
5 cups confectioners' sugar, sifted
1/3 cup (5 1/3 tbsp.) unsalted butter, melted
1 tbsp. vanilla extract
7-8 tbsp. milk (plus more, as needed)
Food coloring (optional)
Sprinkles (optional)
Directions:
To make the cookies, preheat the oven to 350˚ F. Line baking sheets with parchment paper or silicone baking mats. In a medium bowl combine the flour, baking powder and salt, and whisk together to blend. In the bowl of an electric mixer, combine the butter and sugar and beat together on medium-high speed until soft and fluffy, about 2-3 minutes. Beat in the eggs one at a time, mixing well after each addition and scraping down the bowl as needed. Blend in the vanilla. With the mixer on low speed, add in the dry ingredients mixing just until incorporated and evenly mixed. Cover and chill the dough for 1 hour.
When you are ready to bake the cookies, scoop a scant quarter cup of dough and roll into a ball. Flatten the ball slightly and place on the prepared baking sheet. Repeat with the remaining dough, spacing the cookies at least 2-3 inches apart. Bake about 10-12 minutes or just until set. (Do not overbake! The edges should be no more than very lightly browned if at all.) Let cool on the baking sheet for several minutes. Transfer to a wire rack to cool completely.
To frost the cookies, place the confectioners' sugar in a medium bowl. Add the melted butter, vanilla, and milk to the bowl and whisk until smooth. Whisk in additional milk as necessary, 1 teaspoon at a time, until you reach your desired consistency. Tint with food coloring if desired. Use an offset spatula or spoon to frost the cooled cookies. (If the frosting begins to thicken as you decorate, just continue to whisk in small amounts of milk to keep it workable.) Top with sprinkles if desired. Store in an airtight container.