Pumpkin Snack Cake
If you make one pumpkin recipe this fall, it needs to be this pumpkin snack cake. I know I have been posting lots of pumpkin recipes (and they're all good!), but this one is the best. It looks so unassuming, this simple little snack cake with homemade whipped cream. But it is light and moist and perfectly spiced for fall. And the cream is freshly whipped and lightly sweetened, and so perfect on top of the cake. I took this cake to a gathering with friends and it got rave reviews. I not only got multiple requests for the recipe, but people wanted me to send them the recipe right away, before it even went up on the blog. Plus I even heard one person say she doesn't like anything made with pumpkin, but she still loved this cake. It's a winner I tell you. Please make it and report back – I'm sure everyone is going to love it!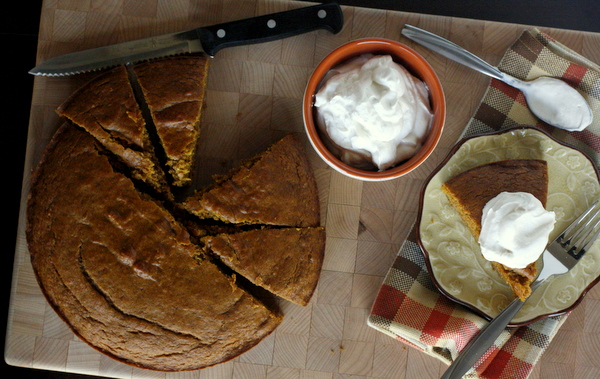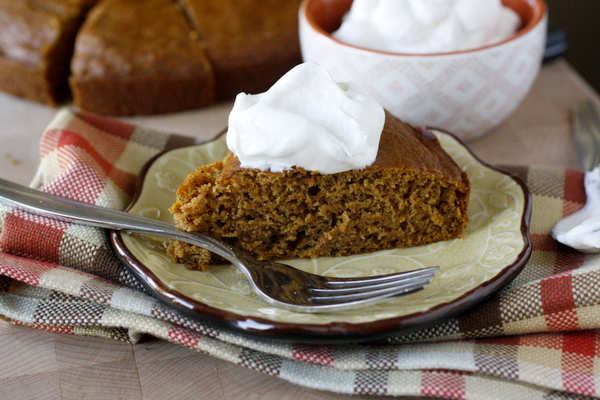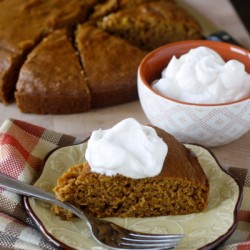 Pumpkin Snack Cake
Ingredients:
For the cake:
1 cup pumpkin puree
1/4 cup applesauce
3 Tbsp vegetable oil
1 large egg
1 tsp vanilla extract
1/4 cup granulated sugar
1/4 cup light brown sugar
1 cup all purpose flour
3/4 tsp baking powder
3/4 tsp baking soda
1/2 tsp salt
2 tsp cinnamon
3/4 tsp nutmeg
1/4 tsp allspice
Pinch cloves
For the whipped cream:
1 cup heavy cream
3 Tbsp powdered sugar
1 tsp vanilla extract
Directions:
Preheat 350°F. Line an 8 or 9-inch round cake pan with parchment paper and lightly grease the sides of the pan.
In a large bowl mix together the pumpkin, applesauce, oil, egg and vanilla. Stir in sugar and brown sugar until fully combined.
In a medium bowl whisk together the flour, baking powder, baking soda, salt, cinnamon, nutmeg, allspice and cloves. Add to wet ingredients in small batches, mixing until fully incorporated.
Transfer batter to prepared baking pan and smooth out the top with a spatula. Bake for 25-30 minutes or until a toothpick inserted in the center comes out clean. Cool in pan for 5-10 minutes before removing to a wire rack to cool completely.
Make the whipped cream: In a medium bowl, whip heavy cream with powdered sugar and vanilla until stiff peaks form. Keep chilled until ready to serve.