Hawaiian Pulled Pork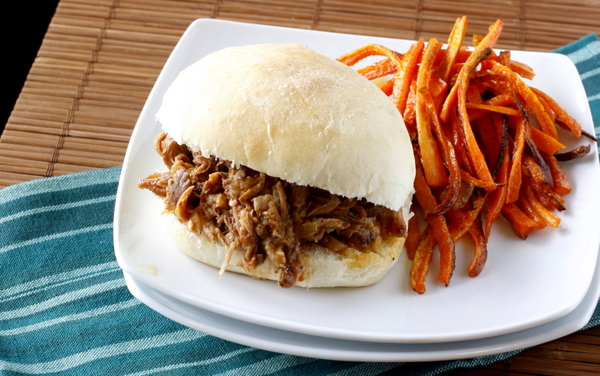 Pulled pork sandwiches might be among my favorite meals of all time. Actually any sandwich that can be made in the crockpot tends to fall under the category of things I love. (e.g. buffalo chicken sandwiches and french dip sandwiches…yum!) This Hawaiian pulled pork recipe is no exception, and in fact, it's my favorite pulled pork recipe to date. I love the combination of spicy and sweet, and the pork is so tender it just falls apart as you shred it. Best of all, it's incredibly easy to prepare. You don't even have to turn the oven on, a definite plus for the hot weather we've been having!
If this is any indication of how good it is, we've already had this meal three times since I discovered it a few months ago. I made it for my parents when they came to visit, and liked it so much that I made it for Mike's parents to celebrate Father's Day. My dad even went so far as to declare this his favorite homemade version of pulled pork. Have I convinced you yet? Make this meal and let me know what you think!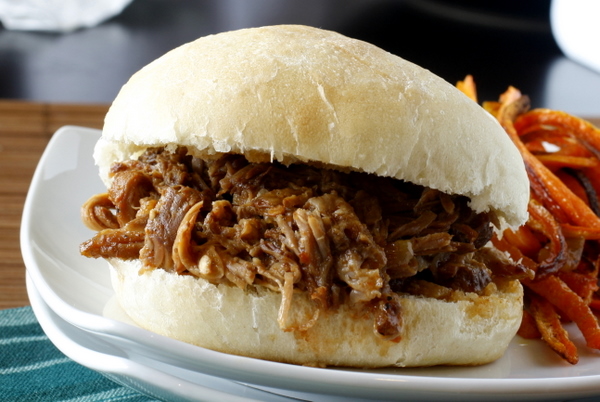 *Note: I seved these on homemade French Bread Rolls, which only made the sandwiches better. I try to have a constant supply of these wonderful rolls in the freezer at all times.
Hawaiian Pulled Pork
Ingredients:
2.5 lbs pork butt
1 medium onion, finely chopped
1/2 cup ketchup
1/3 cup cider vinegar
1/4 cup packed brown sugar
1/4 cup tomato paste
2 tbsp sweet paprika
1 1/2 tsp red pepper flakes (or more if you like it spicy! If you don't like spice, cut this amount in half)
2 tbsp Worcestershire sauce
1 15oz can Pineapple tidbits, drained
3 tsp salt
1 tsp black pepper
Directions:
Place the pork into a slow cooker.
Mix remaining ingredients in a separate bowl and pour on top of the pork. Cover and cook on low heat for 8 hours or until the pork is falling apart.
Using 2 forks, shred the pork while still in the slow cooker and cook for ~15 minutes longer to let it soak up the remaining juices.
Serve on rolls or hamburger buns.
*I like to use these homemade rolls, slice them open and broil for a few minutes, cut side up with a slice of cheese before serving with the pork.